National Weather Summary for Friday, March 24, 2017
by David Moran, on Mar 24, 2017 11:25:46 AM
Thunderstorms are expected Friday across portions of the Plains and Mississippi Valley ahead of an area of low pressure and cold front. Elevated winds and seas will continue across portions of the northwestern Gulf of Mexico through early Saturday morning.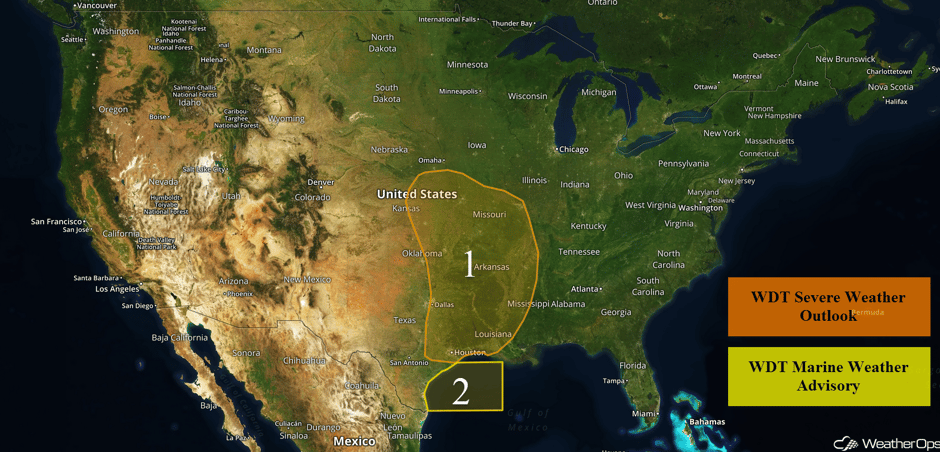 US Hazards
Region 1
An intensifying area of low pressure is expected to progress eastward across the Southern Plains and into Ozarks today, bringing a damaging wind risk to the region. Already ongoing precipitation from the Red River and southward should expand in coverage and intensity into the afternoon with a few line segments and supercells possible. As storms develop, large hail, damaging winds, and tornadoes will be potential hazards. Into the late afternoon and early evening, this region of thunderstorms should consolidate into a squall line stretching from Missouri to the Gulf Coast, with damaging winds and embedded tornadoes the primary hazard at that time. The line will continue to move eastward toward the Mississippi Valley overnight, bringing damaging winds and tornado hazards with it.
Major Cities in Region: Dallas, TX, Tulsa, OK, Houston, TX, Kansas City, MO, St. Louis, MO, Memphis, TN, Jackson, MS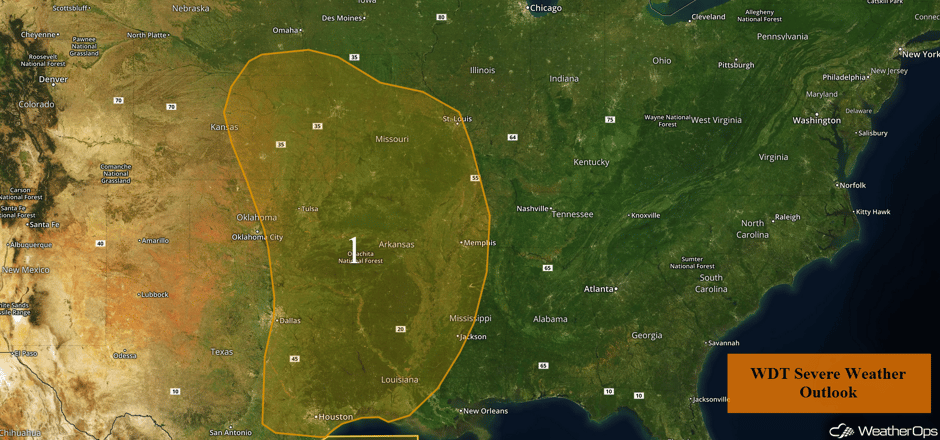 Region 1
Region 2
The intensifying area of low pressure over the Southern Plains will allow winds to increase across Region 2 through early Saturday. Winds of 23-27 knots with gusts to 32 knots are expected. Seas will build to 7-9 feet.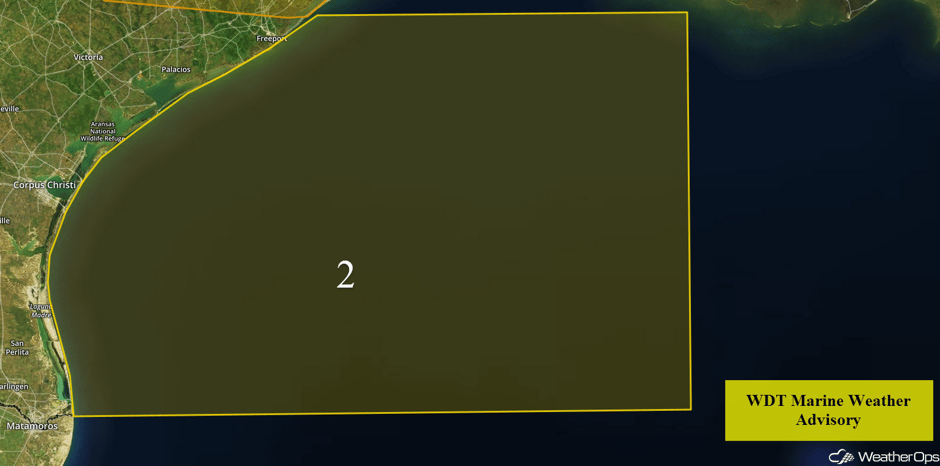 Region 2
Strong to Severe Thunderstorms Possible from Central Gulf Coast to Tennessee Valley on Saturday
A line of strong thunderstorms will likely be ongoing across portions of the Tennessee Valley to the Gulf Coast Saturday morning. A surface low will be in the process of weakening as it slowly moves northeastward across Missouri. A cold front extending from Missouri southward into Louisiana and Texas will be the main lifting mechanism that will maintain bowing line segments as they move eastward through the afternoon. At this time, damaging winds will be the primary hazard, but an isolated tornado cannot be ruled out.
Major Cities in Region: St. Louis, MO, Memphis, TN, New Orleans, LA, Jackson, MS, Mobile, AL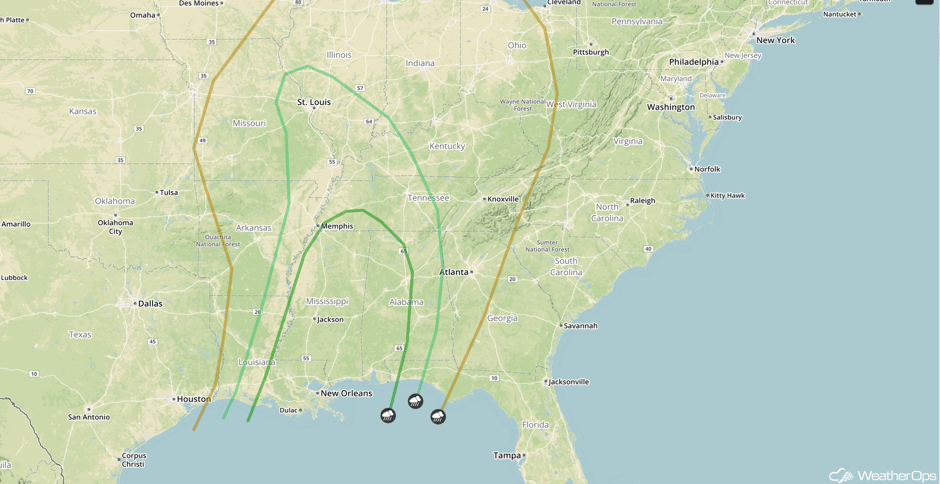 SPC Convective Outlook for Saturday
Strong to Severe Thunderstorms Possible for the Southern Plains on Sunday
An upper level trough moving out of the Rockies will aid in the rapid development of a strong surface low across western and central Oklahoma Sunday morning. Moisture return along and ahead of a dryline extending from the surface low will be limited for the first half of the day. However, by mid to late Sunday, moisture and instability will be sufficient for the development of showers and thunderstorms from southeastern Kansas into Oklahoma and Texas, With moderate wind shear in place, large hail, damaging winds, and tornadoes will be possible with any storms that develop. Isolated severe thunderstorms will likely continue into the Ozarks Sunday evening and into the overnight hours.
Major Cities in Region: Dallas, TX, Oklahoma City, OK, Tulsa, OK, Fort Smith, AR, Fayetteville, AR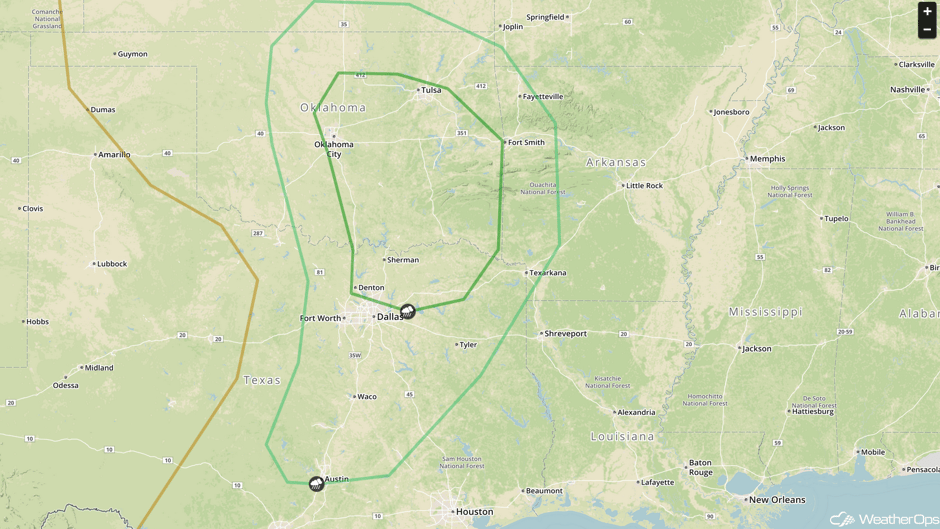 SPC Convective Outlook for Sunday
A Look Ahead
As the area of low pressure described in the previous section continues to move eastward on Monday, thunderstorms may develop across the Lower Mississippi Valley ahead of the attendant cold front. Large hail, damaging winds, and tornadoes will all be possible with these storms.
This is just a brief look at current weather hazards. We can provide you site-specific weather forecast information for the purpose of protecting your personnel and assets and to assess your weather risk. Try a 7-day demo right away and learn how timely precision weather information can enhance your bottom line.