National Weather Summary for Friday, February 3, 2017
by David Moran, on Feb 3, 2017 11:18:35 AM
Snow will continue across the higher elevations of California through early Saturday. As an area of low pressure approaches the Pacific Northwest, snow is expected across the this area and Northern Rockies through late Saturday.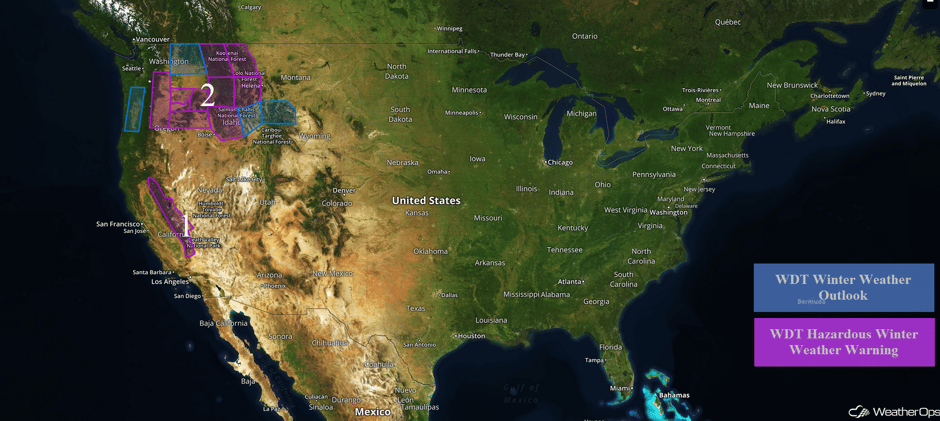 US Hazards
Region 1
Snow will continue across Region 1 through early Saturday morning. Snowfall accumulations of 4-8 inches are expected above 5,000 feet and 1-2 feet above 6,500 feet.
Major Cities in Region: Carson City, NV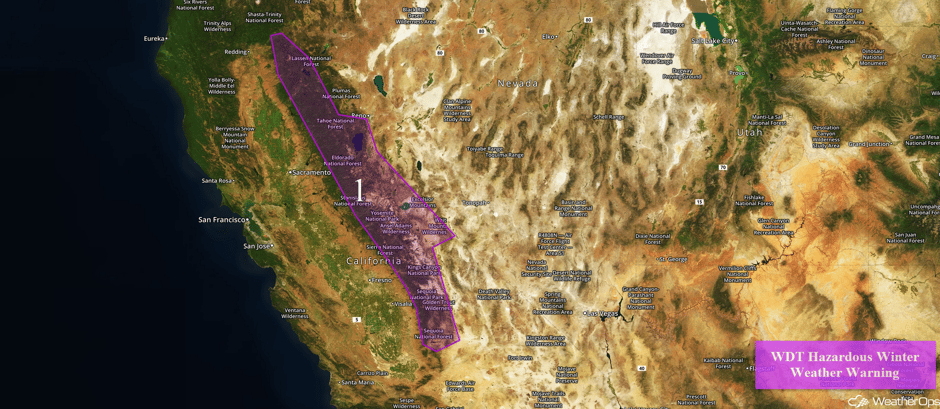 Region 1
Region 2
As an upper level low approaches the Pacific Northwest on Friday, snow will continue for the Pacific Northwest and Northern Rockies through Sunday. Snowfall accumulations will largely be dependent on location and elevation. Across portions of Oregon, snowfall accumulations of 2-4 inches with locally higher amounts in excess of 5 inches are forecast below 1,500 feet. In the highest elevations, 8-14 inches with isolated higher amounts in excess of 18 inches are expected above 3,500 feet. Freezing rain accumulations up to a tenth of an inch are expected below 1,500 feet. Across eastern Washington, 3-4 inches with locally higher amounts in excess of 6 inches are possible in the valleys with 4-6 inches and locally higher amounts in excess of 9 inches in the mountains. For much of Idaho and Montana, snow accumulations of 5-10 inches are forecast below 5,000 feet. In portions of western and central Idaho, snow accumulations of 10-15 inches with isolated higher amounts in excess of 20 inches are expected for the highest elevations. In the lower elevations of western Idaho, a coating of freezing rain and 1-2 inches of snow are forecast in addition to the snow. For the easternmost areas of Region 2, 3-5 inches of snow are expected in the mountains and 2-3 inches in the valleys.
11:30am MST: Snow coverage is increasing across the Northern Rockies this morning. Roads are slick. #MTwx #IDwx pic.twitter.com/1jR5SjI1ar

— NWS Missoula (@NWSMissoula) February 3, 2017
Remember to give plows plenty of room to work during #wawx. pic.twitter.com/96SryCTG9n

— WSDOT North Traffic (@wsdot_north) February 3, 2017
Just shy of 2" of ❄️has fallen at our office west of Spokane. Still coming down at a fair clip. #wawx pic.twitter.com/fm4DO2zpRa

— NWS Spokane (@NWSSpokane) February 3, 2017
Major Cities in Region: Portland, OR, Spokane, WA, Missoula, MT, Butte, MT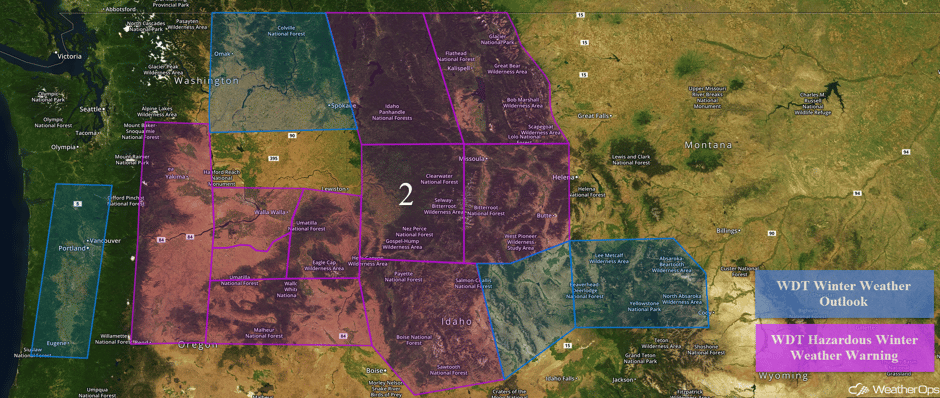 Region 2
Excessive Rainfall Possible Friday across Northern California
As an upper level disturbance and associated Pacific low, that had brought snowfall to the Sierra Nevadas on Thursday, finally makes its way onshore Friday evening, ample moisture will spread across the region throughout the day. With the low providing lift, showers will increase in coverage and intensity. An additional 1-3 inches with isolated higher amounts in excess of 4 inches are expected, on top of the rainfall on Thursday. This will pose a risk for localized flooding and runoff.
Major Cities in Region: Medford, OR, Eureka, CA, Sacramento, CA, San Francisco, CA, Fresno, CA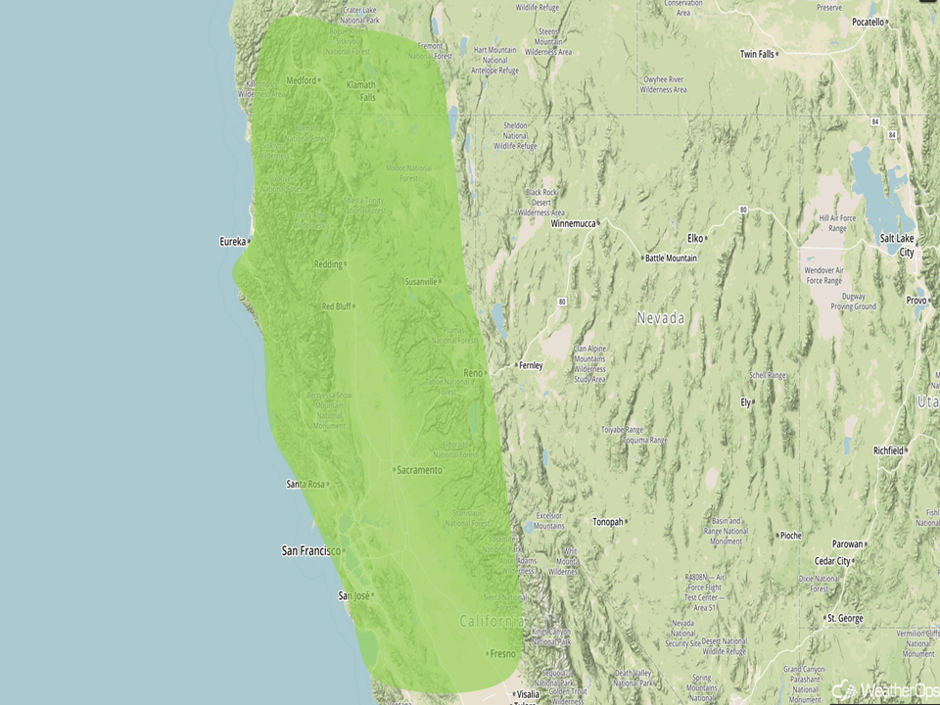 Excessive Rainfall Risk Outline for Friday
Significant Snowfall Possible for Sierra Nevada on Friday
Moderate to heavy snow will continue across the Sierra Nevada on Friday. Additional snowfall accumulations of 1-2 feet are expected.

Major Cities in Region: Reno, NV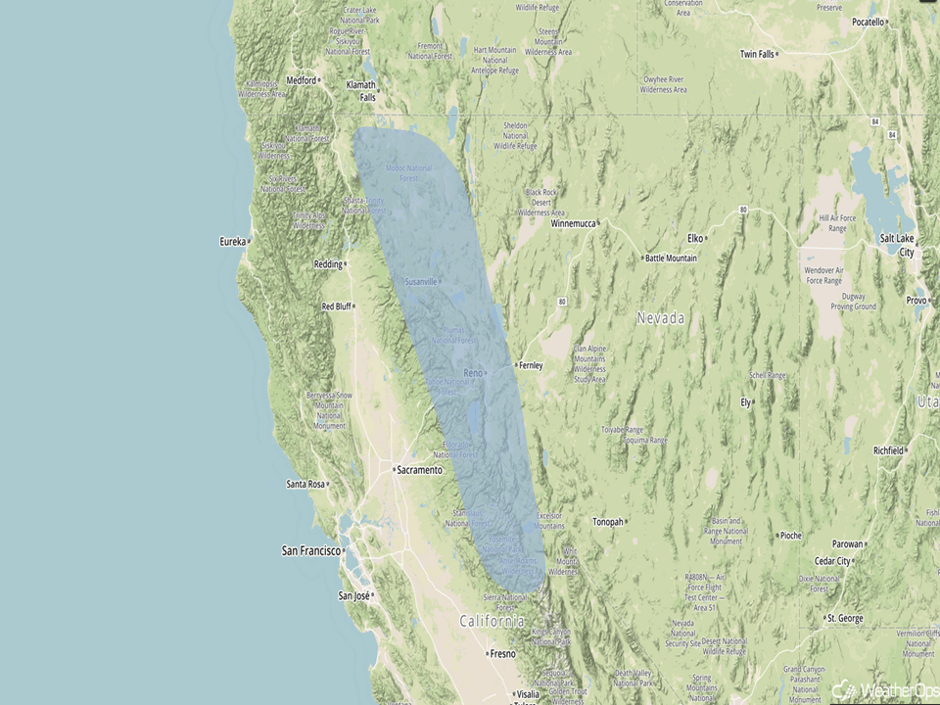 Significant Snowfall Risk Outline for Friday
A Look Ahead
An area of low pressure over the Plains will intensify as it moves northeastward toward the Great Lakes on Tuesday. Light to moderate snow will increase in intensity over the Upper Midwest and Great Lakes. Across portions of Michigan, a wintry mix is likely. Snow will move into the Northeast Tuesday evening.
This is just a brief look at current weather hazards. We can provide you site-specific forecast information for the purpose of protecting your personnel and assets. Try a 7-day demo right away and learn how timely precision weather information can enhance your bottom line.