National Weather Summary for Friday, February 17, 2017
by David Moran, on Feb 17, 2017 11:14:00 AM
Rainfall will increase across southern California as an area of low pressure moves southeastward toward Baja California. Thunderstorms will continue across the Gulf of Mexico throughout the day as a front moves through the region.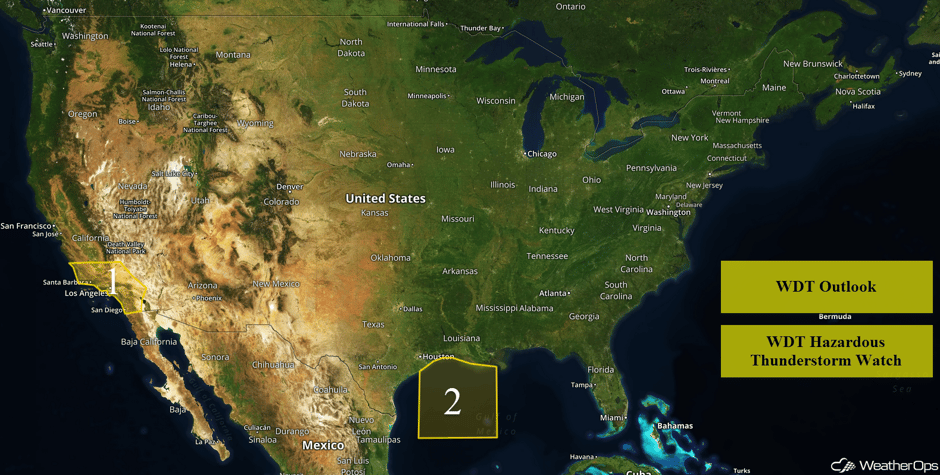 US Hazards
Region 1
Rainfall will continue to increase throughout the remainder of the morning hours today and will become very heavy and widespread by this afternoon and evening as an area of low pressure tracks through the region. Rainfall rates of at least an inch per hour are expected, leading to significant and widespread flash flooding in some areas. Localized amounts may exceed 5-6 inches in the lower elevations and 9 and 10 inches in the higher elevations. By this afternoon and evening, thunderstorms with gusty winds and lightning will be possible as well.

In addition, non thunderstorm winds in excess of 40 mph are expected in the lower elevations and 60 mph in the higher elevations.
Snow levels will remain quite high during the event with heavy snow restricted to elevations above 6000 feet.
LIVE CAM - Avila Beach, CA
Heavy rain and winds gusting 30+ mph. 2.5" recorded so far #StormWatch #cawx https://t.co/hXDD2u7a8I pic.twitter.com/Jmy3ot1wBq

— Weather Webcam (@ActiveWxCams) February 17, 2017
@MammothMountain has passed the 8m snow depth mark, which no leading resort has hit for a few years. Here they are digging out Chair 14... pic.twitter.com/lVKOIhdurJ

— Snow Forecast.com (@SnowForecast) February 12, 2017
Reporter @KEYTNC3JohnP out & about in downtown Santa Barbara where we have lots of minor flooding in roads/intersections #CAStorm #cawx pic.twitter.com/R0sWjZmHuY

— Meredith Garofalo (@KEYTNC3Meredith) February 17, 2017
Power outage maps reflect where some of the highest wind gusts have been this morning, mainly to the south of San Jose #CAwx pic.twitter.com/UUmfETraKL

— Rob Mayeda (@RobMayeda) February 17, 2017
Tree in to house, #SantaRosa ground saturated, winds a problem. @NorthBayNews #castorm #cedar #storm #cawx pic.twitter.com/ejy2MOICx9

— Kent Porter (@kentphotos) February 17, 2017
Over 20 trees down as tree removal continues in an effort to open Boots Road off Highway 68 @NWSBayArea #CAwx pic.twitter.com/v2F5PJFID3

— Vern Fisher (@VFisher45) February 17, 2017
Major Cities in Region: Santa Barbara, CA, Los Angeles, CA, San Diego, CA
Region 1
Region 2
An area of low pressure and increasing moisture will combine to produce thunderstorm activity across the Gulf of Mexico through the afternoon. Storms will have the potential to produce winds in excess of 45 knots, as well as a low threat for waterspouts. These storms will slowly make their way northeastward through the Gulf of Mexico throughout the day.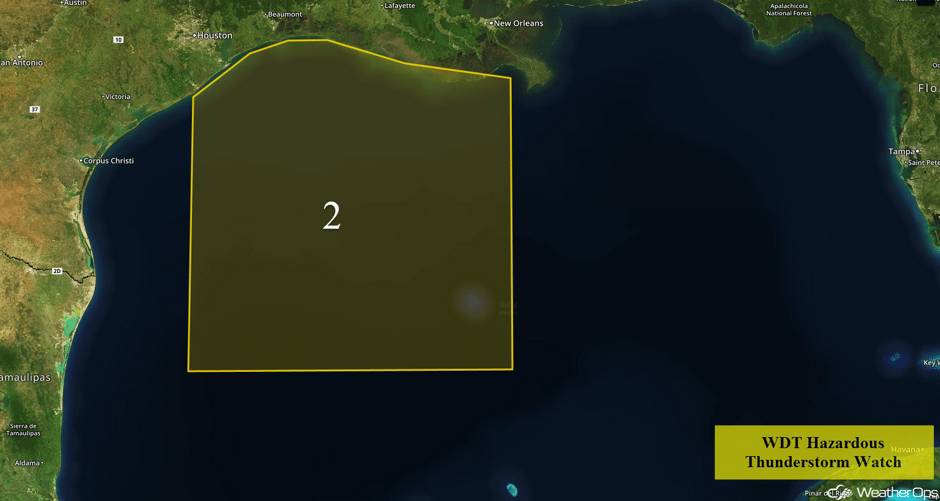 Region 2
Significant Snowfall Possible for the Cascades on Friday
Heavy snowfall is likely across the Cascades as deep moisture encounters colder air. Total snowfall accumulations of 6-12 inches are forecast above 6,000 feet with mountain tops receiving in excess of two feet.
Major Cities in Region: Reno, NV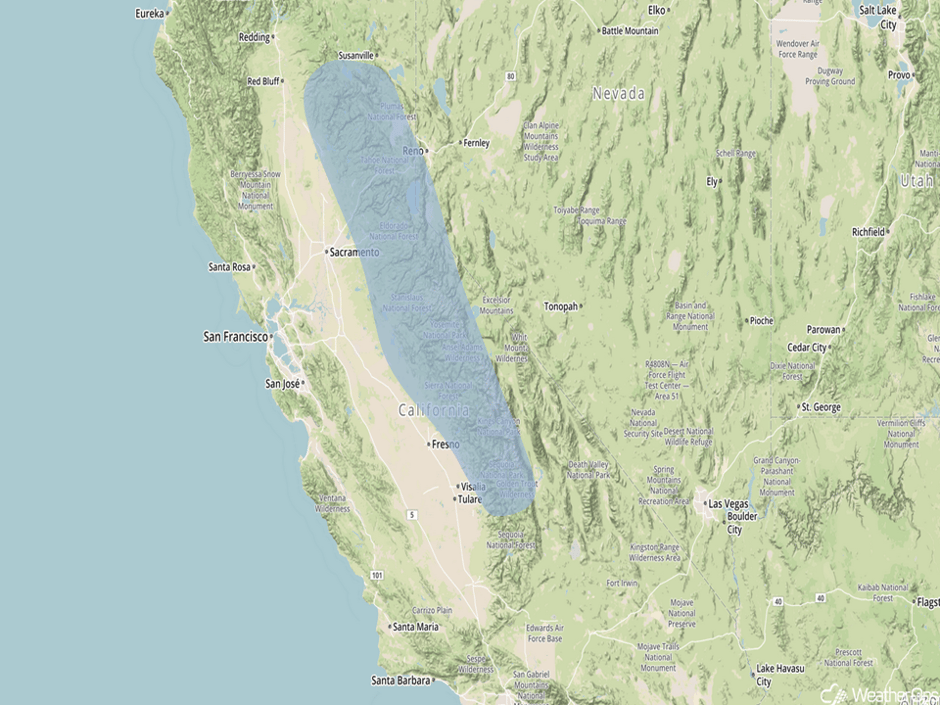 Significant Snowfall Risk Outline for Friday
Excessive Rainfall Possible across the Desert Southwest on Saturday
As the low mentioned above continues to move southeastward toward Baja California, southerly flow ahead of it will bring deep moisture into the Desert Southwest. With this deep moisture and lift provided by the low, heavy rain is expected across the Desert Southwest. General amounts of 1-2 inches with some areas receiving in excess of 2.5 inches. With this heavy rainfall, flash flooding and runoff will be concerns across the region.
Major Cities in Region: Las Vegas, NV, Phoenix, AZ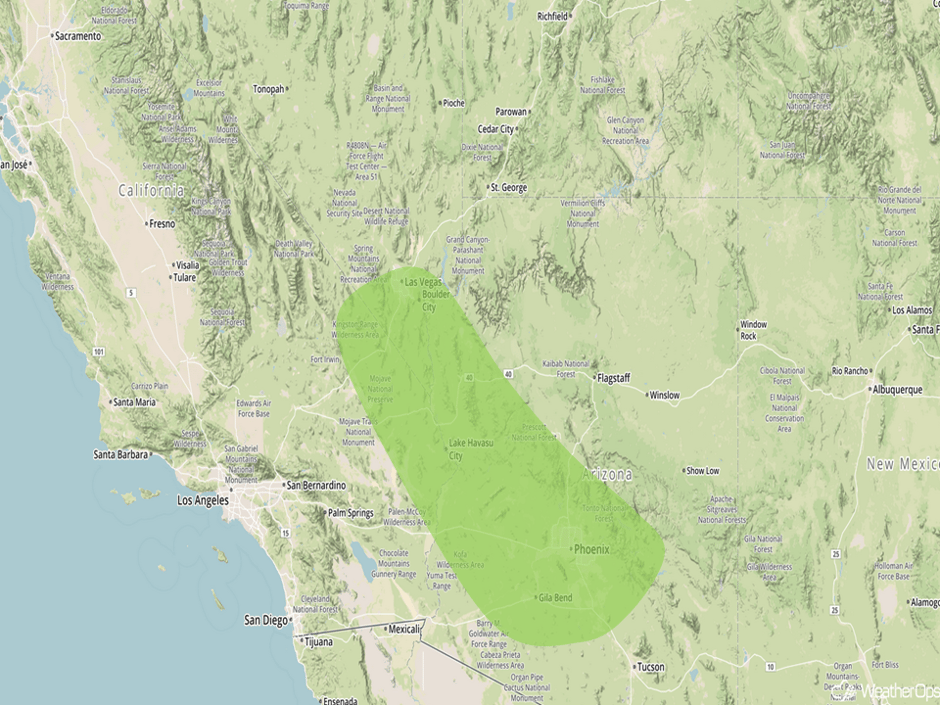 Excessive Rainfall Risk Outline for Saturday
Excessive Rainfall Possible for Portions of the Southern Plains on Sunday
The area of low pressure near Baja California will begin to track eastward across northern Mexico on Sunday into Monday. As this occurs, southerly flow out ahead of this low will increase across the Southern Plains and begin to bring warm, moist air from the Gulf of Mexico into the region. As the low approaches south Texas Sunday evening, moderate to heavy rainfall and scattered thunderstorms will begin to overspread the region during the overnight hours. Rainfall amounts of 1-2 inches with isolated higher amounts in excess of 3 inches will be possible Sunday night into Monday.
Major Cities in Region: Dallas, TX, Austin, TX, Houston, TX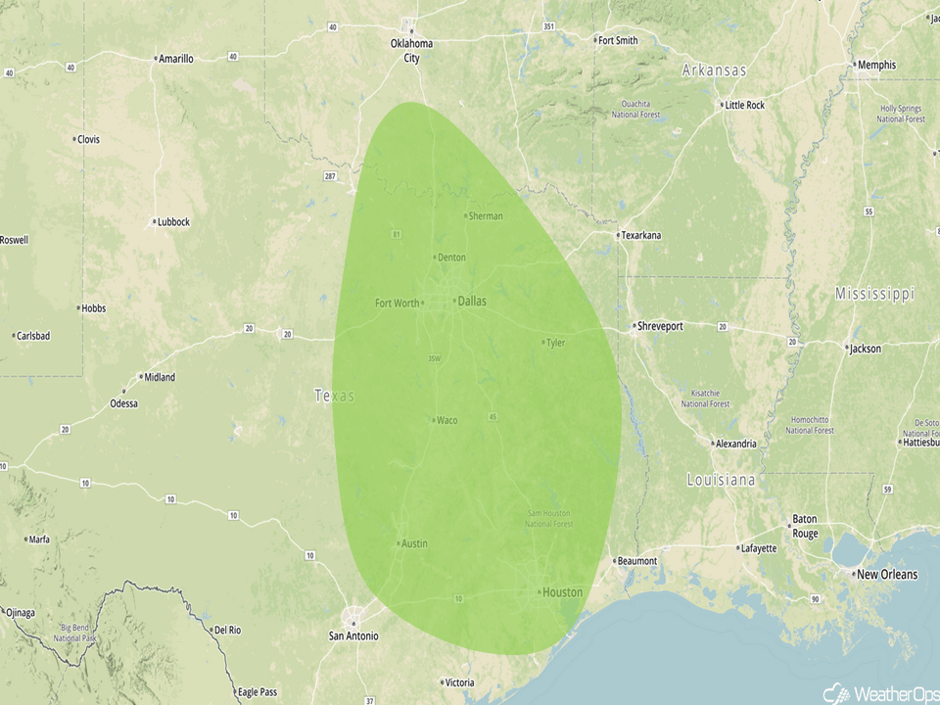 Excessive Rainfall Risk Outline for Sunday
A Look Ahead
In addition to the heavy rainfall described above, a few strong to severe thunderstorms may develop across the Southern Plains Sunday evening into Monday morning. Damaging winds and isolated tornadoes will be the primary hazards with these storms. By Monday, the excessive rainfall potential will shift into the Arklatex region. An upper level system moving out of the Intermountain West will bring the potential for heavy snow to portions of the Rockies and the Northern Plains Wednesday into Thursday.
This is just a brief look at current weather hazards. We can provide you site-specific forecast information for the purpose of protecting your personnel and assets. Try a 7-day demo right away and learn how timely precision weather information can enhance your bottom line.