National Weather Summary for Friday, December 30, 2016
by David Moran, on Dec 30, 2016 11:26:40 AM
A weak upper level system will bring snow to portions of the Northern Plains and Great Lakes Friday into Saturday morning. Excessive rainfall across the Lower Mississippi Valley is forecast on Saturday along a stalled front. By Sunday, thunderstorms are expected across the Arklatex region along a the same stalled front on Sunday.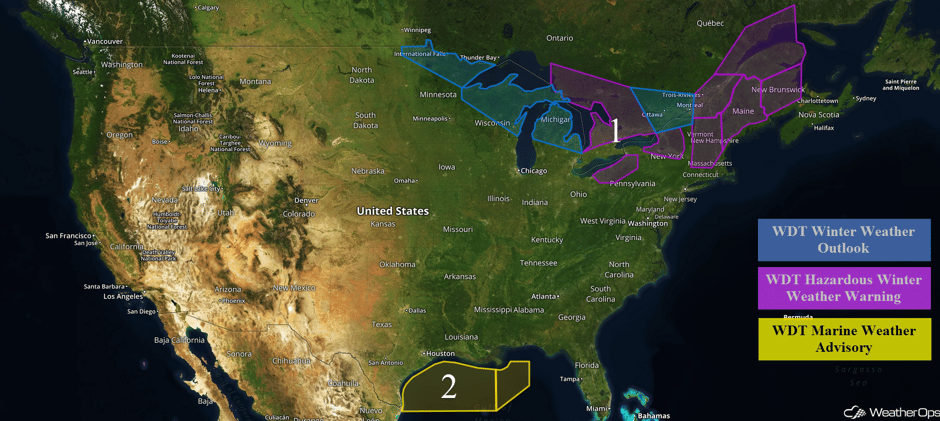 US Hazards
Region 1
Moderate to heavy snowfall will continue across portions of Maine on Friday as an upper level low pushes through the region. Snowfall totals of 8-12 inches are expected with locally higher amounts in excess of 16 inches. Blustery winds will result in blowing snow and reduced visibilities, causing hazardous travel. Along the shores of Lakes Erie and Ontario, lake effect snow will continue; accumulations of 3-6 inches are forecast but as much as 9-15 inches will be possible within the heavier bands. Winds of 15-25 mph with gusts in excess of 40 mph will limit visibilities to less than half a mile at times. Across Upstate New York, snowfall totals of 6-8 inches are expected across the higher terrain.
A quick clipper system is forecast to move through the Great Lakes region Friday and Saturday. Amounts of 1-3 inches are forecast across the Northern Plains Friday into Saturday. Snowfall accumulations of 1-3 inches with isolated higher amounts in excess of 5 inches are forecast for portions of northeastern North Dakota and northern Minnesota. Across the Lower Peninsula of Michigan, snowfall amounts of 2-5 inches are expected.
Major Cities in Region: International Falls, MN, Green Bay, WI, Cleveland, OH, Augusta, ME.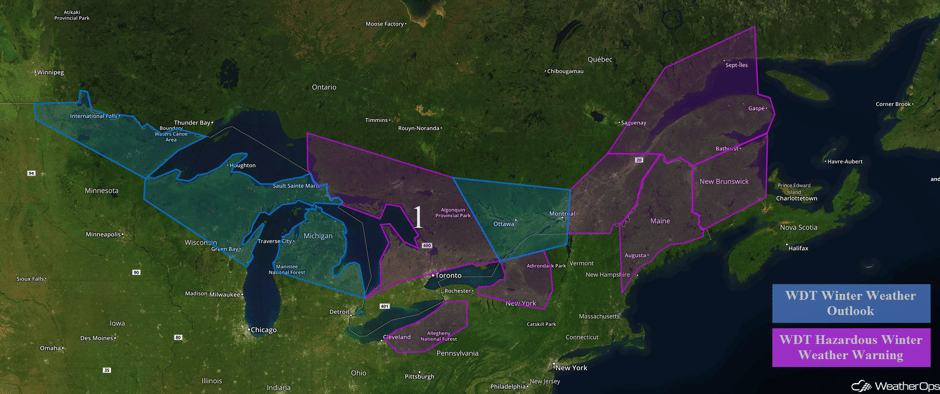 Region 1
Region 2
Winds and seas will gradually relax over the course of Friday in the wake of a strong front. Winds of 20-30 knots with gusts in excess of 35 knots are expected through the morning hours. Seas wll be 7-10 feet, dropping below 7 feet by tonight. Across eastern portions of Region 2, northerly winds of 20-25 knots with gusts in excess of 30 knots are expected.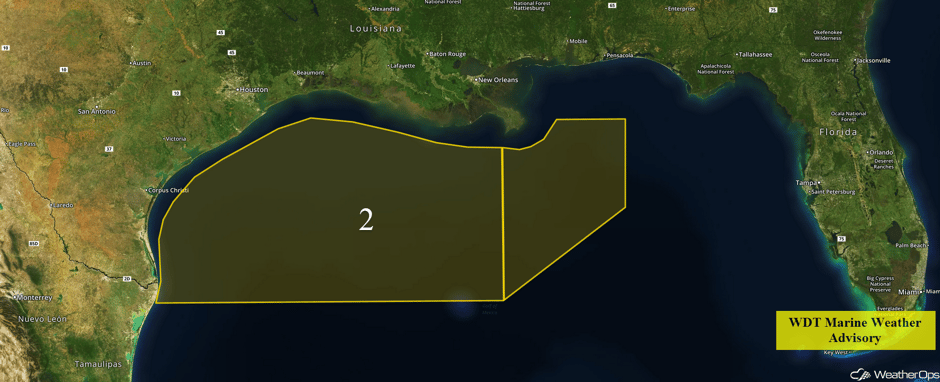 Region 2
Excessive Rainfall Possible Saturday for the Lower Mississippi Valley
An upper level disturbance is expected to move through the Lower Mississippi Valley on Saturday. Increasing shower and thunderstorm activity is forecast with the development of a weak stationary front along the Gulf Coast. Rainfall amounts of 1-2 inches are forecast across the region with locally higher amounts of 3 inches expected. This will result in an elevated threat for flooding and local runoff Saturday through early Saturday morning.
Major Cities in Region: Beaumont, TX, Lafayette, LA, Baton Rouge, LA, Mobile, AL, Montgomery, AL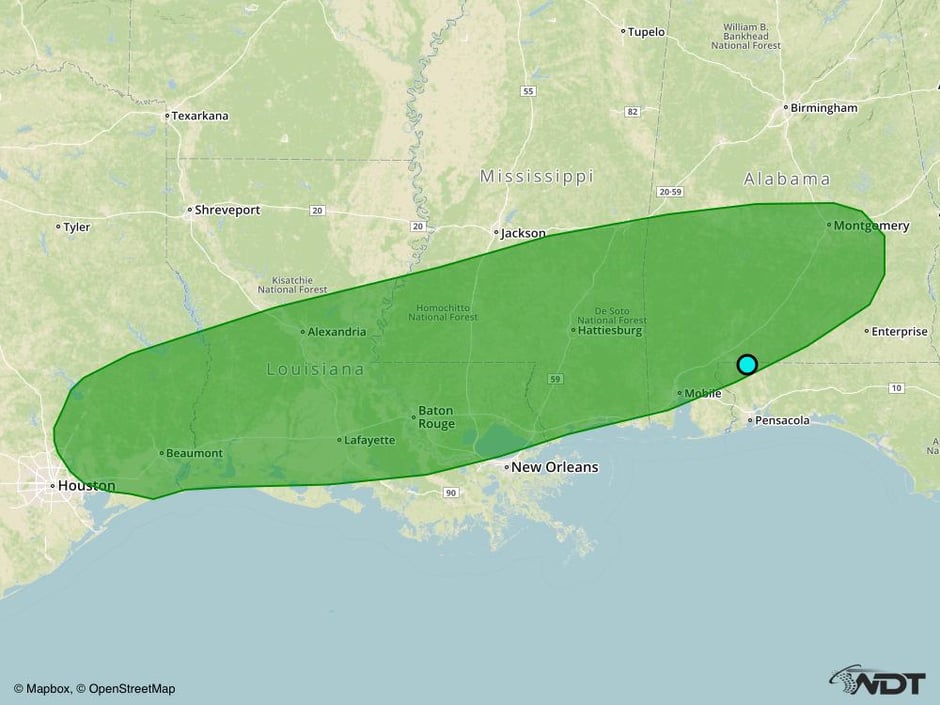 Excessive Rainfall Risk Outline for Saturday
Strong to Severe Thunderstorms Possible across the Arklatex on Sunday
An intensifying area of low pressure is forecast to develop on the tail end of a stationary front by Sunday. This low and front will begin lifting northward throughout the day with an abundance of gulf moisture overspreading the Arklatex region. Showers and thunderstorm chances should be low, but a few thunderstorms may be capable of hail and damaging winds.
Major Cities in Region: Tyler, TX, Beaumont, TX, Shreveport, LA, Baton Rouge, LA, New Orleans, LA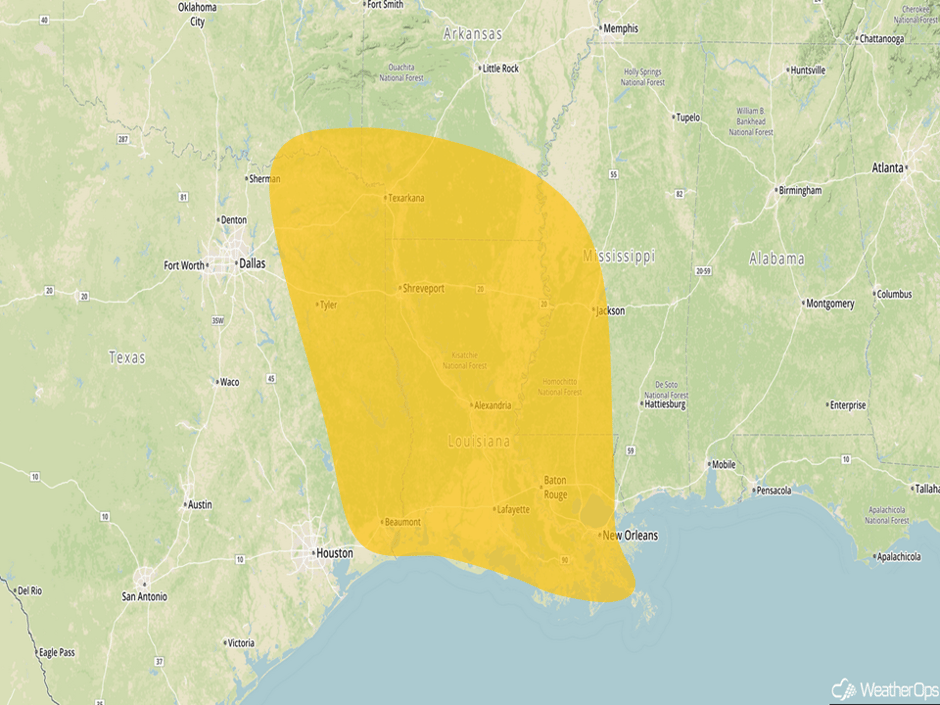 Severe Thunderstorm Risk Outline for Sunday
A Look Ahead
High pressure will dominate most of the eastern US next week. Thunderstorms may develop from the Arklatex into the Mid Atlantic on Monday, but no severe weather is anticipated. Elsewhere, light snow is forecast across the Rockies and Sierra Nevada. Heavy snow may develop across the Upper Midwest and Great Lakes on Tuesday. Across the Eastern US, showers and thunderstorms may develop on Tuesday.
This is just a brief look at current weather hazards. We can provide you site-specific forecast information for the purpose of protecting your personnel and assets. Try a 7-day demo right away and learn how timely precision weather information can enhance your bottom line.