National Weather Summary for Friday, August 26, 2016
by David Moran, on Aug 26, 2016 12:07:34 PM
Thunderstorms are expected to develop across portions of the Plains on Friday as a frontal boundary lifts northward. Areas of thunderstorms will be possible throughout the day across portions of the Gulf of Mexico as tropical moisture continues to stream into the region. On Saturday, thunderstorms will develop across the Midwest as a surface low develops over the Plains and tracks northeastward. Invest 99L will continue to track toward Florida, bringing heavy to excessive rainfall to portions of Florida.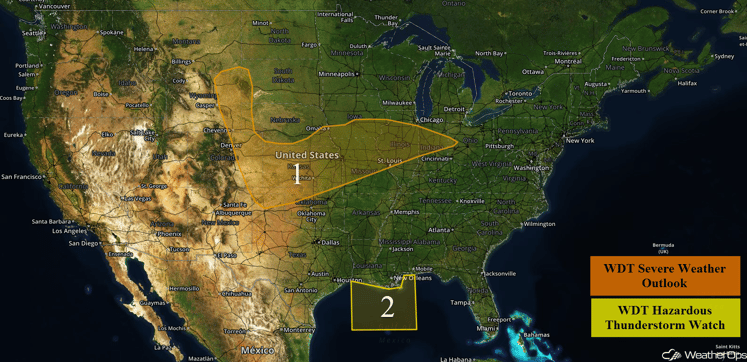 US Hazards
Region 1
A lifting frontal boundary a weak area of low pressure will continue to produce thunderstorm activity across Region 1 today. Areas of scattered to clustered thunderstorms are likely, with the primary hazards being hail and damaging winds. One or two tornadoes may also be possible, primarily near the lifting front from Kansas into Illinois. Heavy rainfall will be possible with these storms; rainfall amounts of 1-3 inches with isolated higher amounts possible.
Update 1:20pm CDT: Thunderstorms have developed across Southern Illinois. Large hail and damaging winds will be possible with these storms.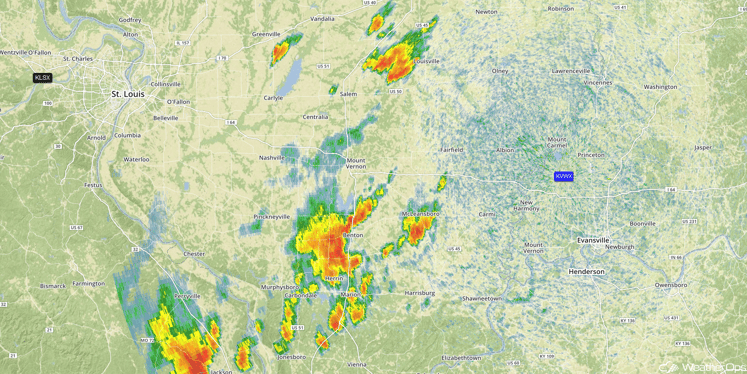 Radar 1:20pm CDT
Major Cities in Region: Rapid City, SD, Goodland, KS, Wichita, KS, Kansas City, MO, Des Moines, IA, St. Louis, MO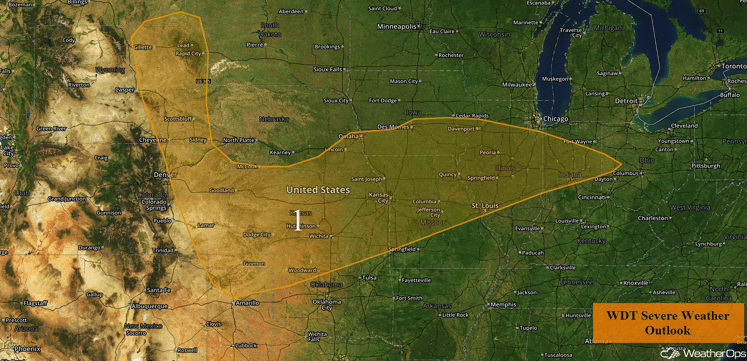 Region 1
Region 2
Areas of enhanced thunderstorm activity from plentiful tropical moisture moving into Region 2 will continue through the evening hours. Storms will primarily have a wind threat with enhanced and gusty winds possible from any thunderstorms. Winds may also shift locally based on any nearby activity, but a widespread wind shift is not forecast.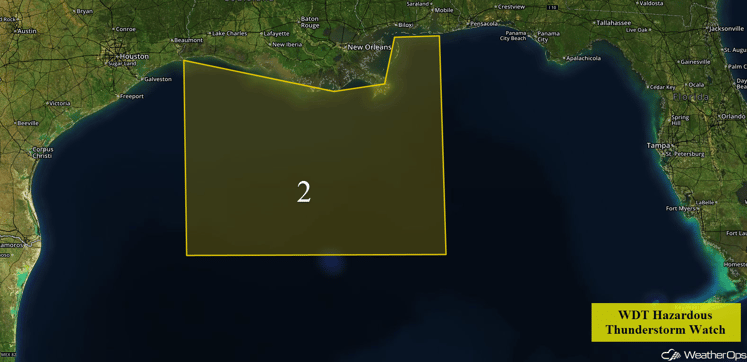 Region 2
Strong to Severe Thunderstorms Possible on Saturday across the Midwest
An area of low pressure will develop over the Central Plains and track northeastward towards the Great Lakes region on Saturday. As this low tracks northeastward, the associated warm front will continue to lift northeastward through Wisconsin. Ample moisture will spread across the region; this combined with marginal wind shear and marginal instability as a result of daytime heating is forecast to result in an increase in coverage and intensity of thunderstorms along this front as well as just out ahead of an eastward moving cold front stretching across Minnesota during the afternoon and evening hours. At this time the primary threats with any thunderstorms that do form are expected to be damaging winds.
Major Cities in Region: Minneapolis, MN, Cedar Rapids, IA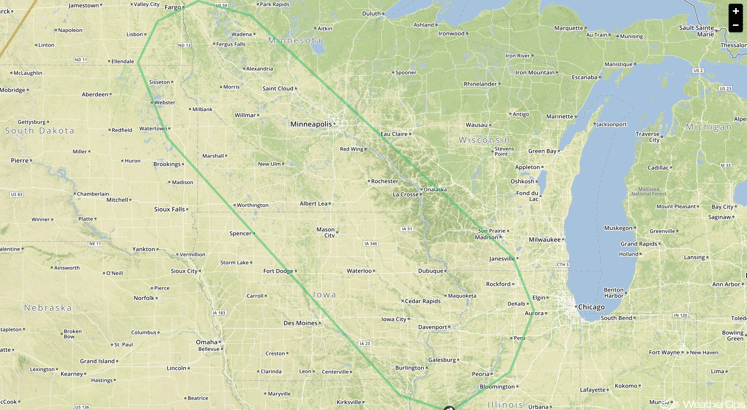 SPC Convective Outlook for Saturday
Excessive Rainfall Possible for Portions of Florida on Sunday
As Invest 99L continues its west-northwest trek toward south Florida and this invest gets closer to the CONUS, the potential for heavy rainfall is forecast across this region on Sunday. Model guidance has continued to be quite variable in solutions and confidence currently remains low on the exact track of this system in the coming days. However should Invest 99L develop a surface circulation and track along a similar track as to what is currently forecast, heavy to excessive rainfall from the tropical system is expected across areas of south Florida. Given the current model trends this heavy rain threat is becoming more likely for south Florida. However, given the low confidence on the exact track of this system the exact location of the northern extent of this heavy rainfall continues to remain uncertain. Interests within Florida should continue to monitor the development and track for Invest 99L.
Major Cities In Region: Tampa, FL, Fort Myers, FL, Miami, FL, West Palm Beach, FL, Orlando, FL, Daytona Beach, FL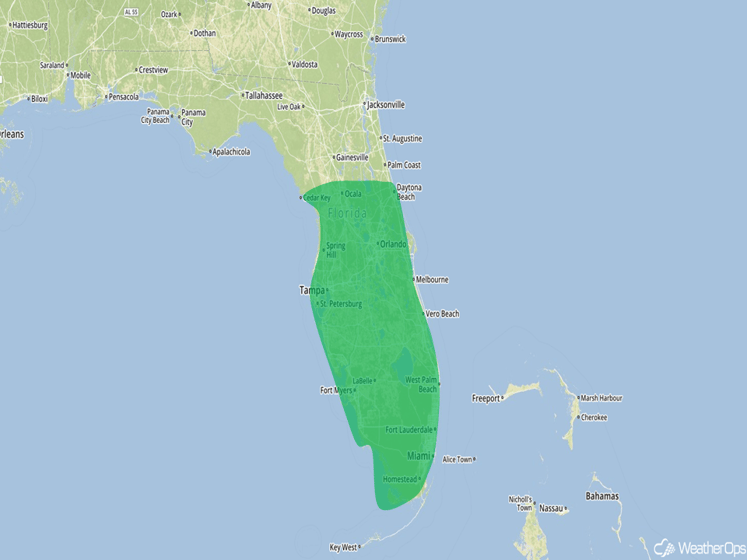 Excessive Rainfall Outline for Sunday
Tropical Update
Tropical Storm Gaston (green oval) continues to move toward the north-northwest at 17 mph. The system is expected to turn toward the northwest or west-northwest ass a slower rate of speed for the next few days. Maximum sustained winds are near 65 mph with higher gusts. Gaston is expected to be a hurricane again by Saturday.
Further west, Invest 99L (red oval) extending from eastern Cuba northward to the Central Bahamas is producing disorganized shower and thunderstorm activity. Upper level winds are expected to remain unfavorable for significant development early next week when the system moves into the eastern Gulf of Mexico. Regardless of development, heavy rains, with the potential for flash floods and mudslides, are likely over Hispaniola today and over eastern and central Cuba through the weekend. Gusty winds and locally heavy rainfall are likely over portions of the Bahamas, and will likely spread into parts of South Florida and the Florida Keys over the weekend.
A weak area of disturbed weather (blue oval) is located over the North Central Gulf of Mexico. Little or no development is expected with this system before it reaches the Texas coast over the weekend.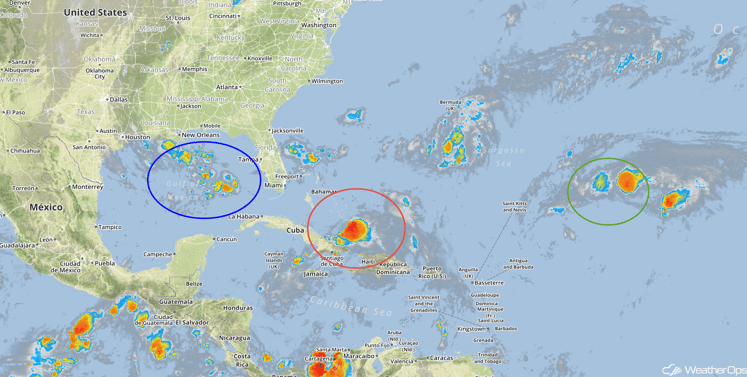 Tropical Satellite
A Look Ahead
As of the latest model runs, heavy to excessive rainfall will remain possible Monday and Tuesday for portions of Florida and the eastern Gulf of Mexico due to the latest forecast track of invest 99L. Overall confidence continues to remain quite low with respect to the exact track and intensity of Invest 99L which is leading to low confidence in the exact location of this area of heavy to excessive rainfall. Regardless interests across Florida and the central Gulf of Mexico should continue to monitor Invest 99L closely.
This is just a brief look at current weather hazards. We can provide you site-specific forecast information for the purpose of protecting your personnel and assets. Try a 7-day demo right away and learn how timely precision weather information can enhance your bottom line.