Utilities to Benefit from Ice Accumulation and Damage Prediction, Outage Duration Weather Model
by Steve Miller, on Feb 14, 2018 10:02:00 AM
Norman, OK – February 14, 2018 — Weather Decision Technologies, Inc.® (WDT), the world's leading weather analytics company, has added the SPIA® Index, the foremost ice accumulation and damage prediction model in the United States, to its select list of decision support products and services. The SPIA Index is available today as a GIS Layer, and will soon be integrated into WeatherOps, WDT's weather risk mitigation platform.
Tailored for electric power and communications utilities, the SPIA Index predicts the potential for damage to overhead utility systems, as well as outage duration, caused by freezing rain and wind events. Forecasts show accumulated SPIA Index values out 3 days in advance. Beginning today, our clients can see how much ice is forecast, as well as estimated impacts, by referencing a scale similar to that of tornadoes and hurricanes with values showing increasing severity ranging from 1 to 5.
"The addition of the SPIA Index to WDT's GIS catalog will enhance the ability for our utility clients to stage their resources where they'll be needed most," says JR Hehnly, GIS Development Team Lead. "Having valuable information well before severe icing events enables utilities to restore services as quickly as possible afterward."
Sid Sperry, co-creator of the SPIA Index, commented on WDT's latest addition. "For years I've had the greatest respect for the professionals at WDT, and for the decision support products they provide. Being able to add the SPIA Index to their lineup of superior services is humbling. I'm honored to be working with another Oklahoma-based company in this effort," Sperry said.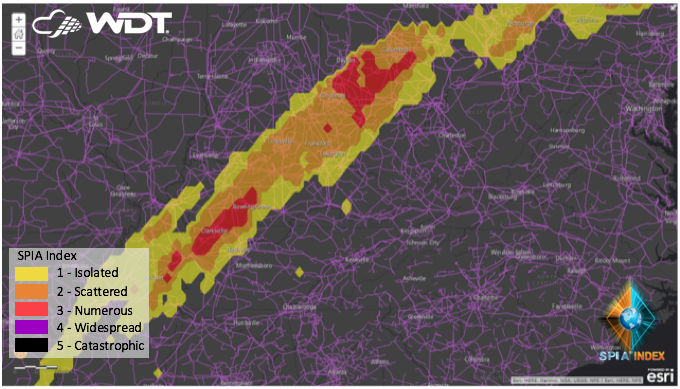 WDT will utilize ArcGIS Server infrastructure to create data services designed to provide SPIA Index forecasts in different formats such as GeoJSON and KML for consumption by various mapping applications. ESRI users can connect to the map service or feature service endpoints for visualization, analysis, and alerting within the ESRI platform.
About WDT, Inc.
Headquartered in Norman, OK, WDT provides organizations with actionable weather analytics and decision support. The company helps clients leverage weather information for profit and safety globally. Hazardous weather detection, prediction, and decision analytics are available via APIs and GIS layers, as well as WDT's leading risk mitigation SaaS platform, WeatherOpsÒ. WDT takes business continuity activities to the next level by assigning expert meteorologists to monitor global assets and provide live, one-on-one consulting before and during severe weather situations.