Top Grossing Radar App Adds 30-Day Archive Plus Hail and Shear Contours
by Daphne Thompson, on Apr 27, 2017 1:00:04 PM
Norman, OK, April 27, 2017 — Weather risk and analytics leader, Weather Decision Technologies, Inc. (WDT), has released the latest version of RadarScope® for macOS, iOS and Android platforms. Version 3.4 adds a second Pro tier containing a full 30-day radar archive, along with professional risk mitigation tools by SkyWise®: Shear Contours and Hail Contours. In addition, Pro Tier 2 works on up to five Mac, iOS, and Android devices at a time.
RadarScope has become the leading weather app by providing the best possible data in a display format familiar to weather industry professionals and weather savvy consumers alike. Today's release brings with it the necessary tools to expand the reach of RadarScope to a broader audience.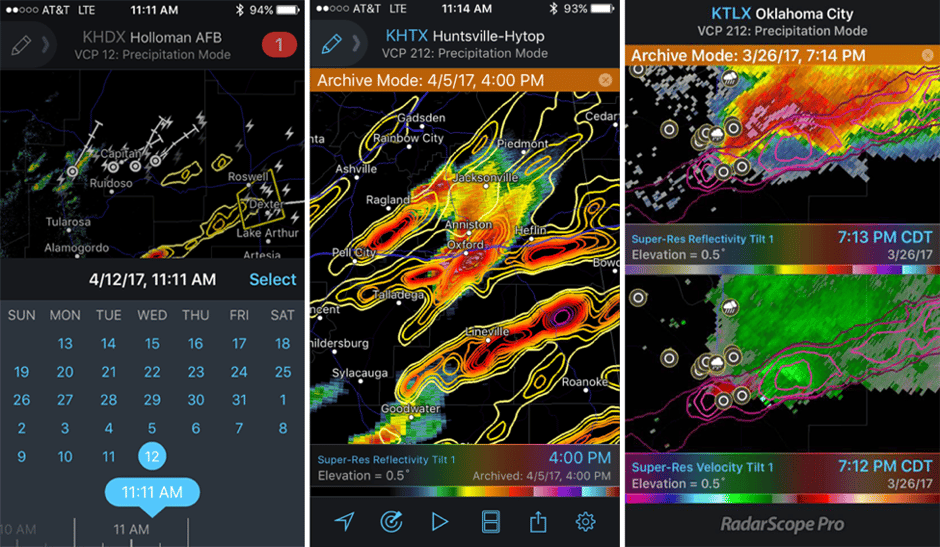 Who will benefit?
Roofing and PDR companies who need to identify where hail fell
Insurance adjusters who need to verify the presence of hail or rotation
NWS meteorologists in the field on a survey
Emergency Management officials handling disaster response
Research students and meteorologists who need to source imagery for projects
Tier 1: No changes, still $9.99/yr.
The popular Pro, Tier 1 offering remains unchanged for this update; however additional products will continue to be added to this level over time. Current features include:
Lightning
Dual pane display
Longer loops
Inspector tool
Tier 2: NEW! $14.99/mo. –or– $99.99/yr.
Plot both rotation tracks and hail contours in near real-time on familiar RadarScope basemaps. Access archive data to analyze past weather events in detail; share imagery.
30-day archive: All tilts, all products back 30 days
Shear Contours: This SkyWise product indicates, via contour, where shear was strongest
Hail Contours: This SkyWise product helps users find the most intense hail within minutes of it falling
Cross Platform: Pro, Tier 2 data is accessible across platforms, transferring from macOS to iOS to Android with up to five devices active at one time
About RadarScope
RadarScope is a specialized display app for weather enthusiasts and meteorologists that allows mobile, Mac, and tablet users to view high resolution radar data, lightning data and severe weather warnings. This premium application can display the latest reflectivity, velocity, and other radar products from any radar site in the United States, Canada, Guam, Puerto Rico and South Korea. RadarScope 3.4 is available today on the App Store, Mac App Store and Google Play. Follow on social @RadarScope and online at RadarScope.io.
About Weather Decision Technologies, Inc.
Headquartered in Norman, Oklahoma, Weather Decision Technologies, Inc. (WDT) provides organizations with weather analytics and decision support on a global scale. The company utilizes big data solutions to develop and provide weather analytics such as hazardous weather detection and prediction, high resolution forecasts, decision analytics, content for mobile apps as well as interactive mapping. WDT employs the world-renowned WeatherOps forecast team, staffed by experts who provide global asset protection and commodities trading decision support. Be it asset protection, positioning of goods and services ahead of weather or as response to weather, or simply warning the general public of impending adverse weather, WDT has a product to fit any need.