WDT to Release Global Regions of Data
by Daphne Thompson, on May 9, 2017 10:10:11 AM
Norman, OK, May 9, 2017 — Weather risk and analytics leader, Weather Decision Technologies, Inc. (WDT), releases precipitation estimates, current conditions, and forecasts over most of the highly-populated regions of the world at up to 1 km resolution.
WDT has a 17-year history of developing operational solutions that collect global data, perform quality control, and then run a large suite of analytics and models that produce industry leading detections, nowcasts, and forecasts of weather variables. The company is focusing on being the first to market with higher resolution, accurate, current conditions and forecasts.
"We are excited to have completed our first step towards building out our global data sets," says Lee Robb, WeatherOps API Product Manager. "The addition of these data sets represent a lot of hard work to build our weather pipeline. This will allow us to roll out more domains utilizing the best data and models available."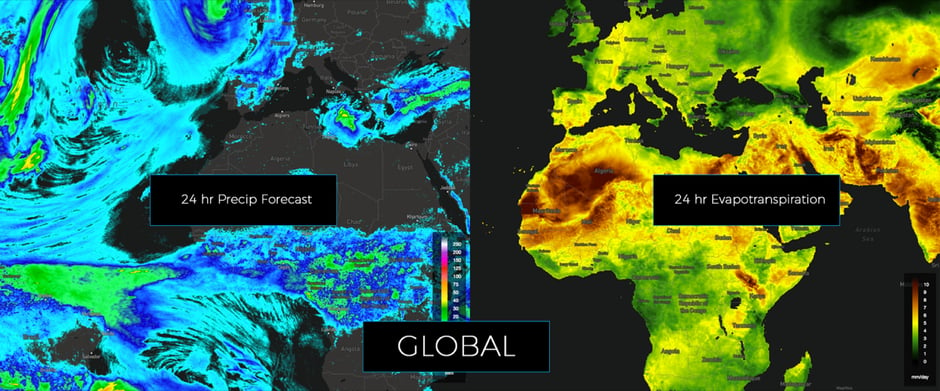 WDT's global WeatherOps "Weather as a Service®" is designed to provide the highest quality weather information for any region on the globe accessible via simple, user-friendly APIs and other transfer mechanisms.
Parameters Available:
2m temperature
2m dew point
Total cloud cover
Surface wind speed and direction
Mean sea level pressure
1hr accumulated precipitation
Solar radiation
Short crop evapotranspiration
Tall crop evapotranspiration
Available through:
WeatherOps Insight API: allows users to query time-series data by point or area
WeatherOps Tiles API: for tiled imagery useful for creating interactive mapping applications
Bulk download: In scientific format for companies developing analytical models
About Weather Decision Technologies, Inc.
Headquartered in Norman, Oklahoma, Weather Decision Technologies, Inc. (WDT) provides organizations with weather analytics and decision support on a global scale. The company utilizes big data solutions to develop and provide weather analytics such as hazardous weather detection and prediction, high resolution forecasts, decision analytics, content for mobile apps as well as interactive mapping. WDT employs the world-renowned WeatherOps forecast team, staffed by experts who provide global asset protection and commodities trading decision support. Be it asset protection, positioning of goods and services ahead of weather or as response to weather, or simply warning the general public of impending adverse weather, WDT has a product to fit any need.