Daily Hail Report and Forecast - 4/1/2016
by Marcus Hicks, on Apr 1, 2016 9:37:56 AM
Yesterday had a very large area that saw hail. Storms produced hail in MI, IA, IL, IN, AR, TN, LA, MS and AL. The battle for the big hail was taken by Mississippi with storms producing hail up to 3.25" South of Jackson.
Today, during the morning hours, ongoing thunderstorms are forecast to continue to progress to the east across the southeast and into the Atlantic Coast states. With the low level jet throughout the region, intensity is forecast to remain into the morning hours with damaging winds as the primary impact. Throughout the day and into the afternoon, a shortwave trough is forecast to track to the northeast across the region, providing upper level support for developing thunderstorms. While the morning activity will help to dampen development, ample moisture and wind shear is forecast to recover into the afternoon allowing for numerous thunderstorms to develop. Into the evening, the low level jet is then forecast to continue to enhance the storms. The main impact from thunderstorms through the region will be damaging winds. Large hail will also be possible as well as isolated tornadoes, with isolated tornadoes especially in the Virginia and North Carolina regions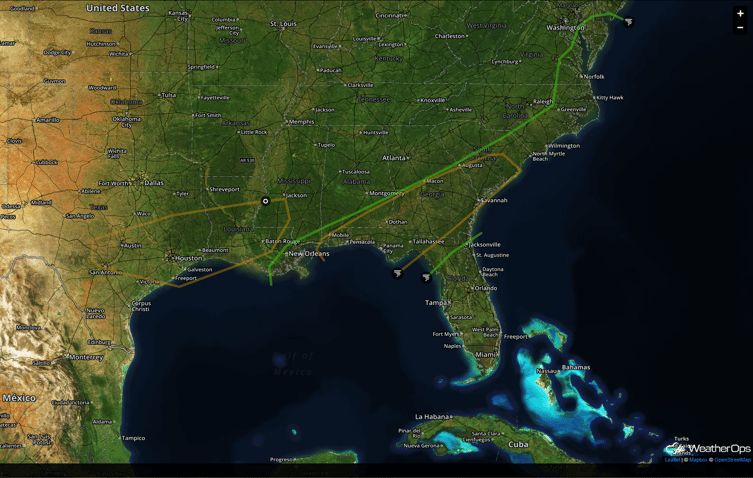 Weather Decision Technologies is at the forefront of severe weather data and is the leading data provider, offering tools and decision guidance to clients on a a global scale. Our hail data is consumed by other hail mapping organizations but why not cut the middleman and get it right from the source? Looking for guidance as to how weather may affect your business? We can help.