Monsoonal Winds Bring Risk of Tropical Storms to Northern Australia
by Daphne Thompson, on Jan 25, 2018 3:36:29 PM
The weather patterns that affect northern Australia are monsoonal. There are distinct wet and dry patterns, driven by seasonal winds. From December through March, northeast monsoon winds flow across Southeast Asia in response to the strong Siberian High and cold Asian continent. Gaining moisture as they traverse the South China Sea, these winds turn northwesterly over the Java Sea south of the equator. By January this persistent northeasterly flow across Southeast Asia forces the monsoon trough, part of the Intertropical Convergence Zone (ITCZ), into its southernmost position near 10°S. The monsoon trough serves as a focus for the inflow of moist tropical air and brings enhanced west to northwesterly winds, cloudiness, and heavy rainfall to portions of northern Australia.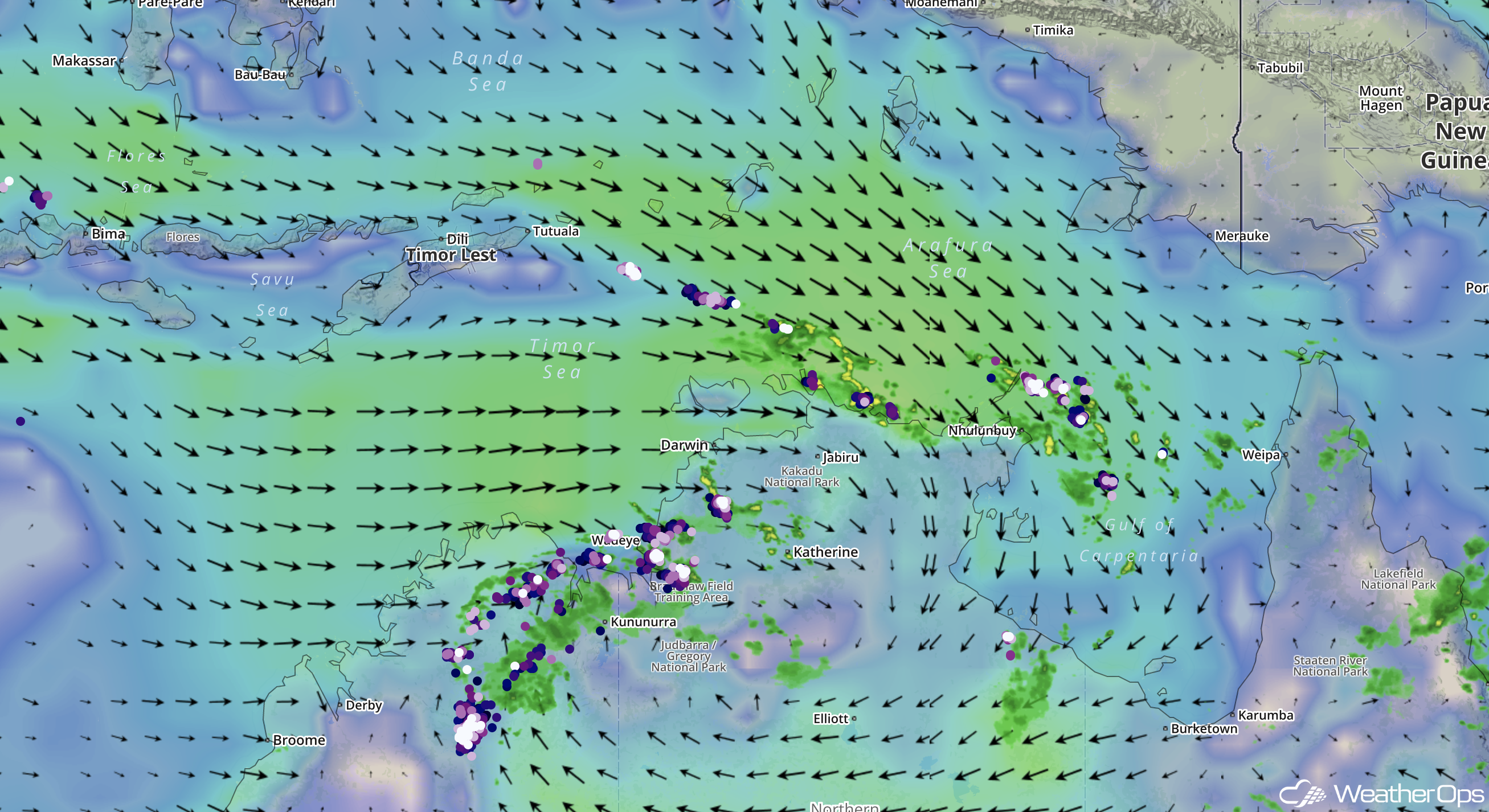 Surface Winds & Convective Activity Over Northern Australia
During summer, the Australian continent heats up much faster than the surrounding ocean. This change results in a substantial difference in temperature and pressure with the lower pressures occurring over the warmer continent. Strong, persistent west to northwest winds and bursts of thunderstorms develop from these temperature differences as air converges and rises over Australia. Bursts of thunderstorm activity may last several weeks and are further enhanced by the wet phase of the eastward-moving Madden-Julian Oscillation (MJO). For example, in February 2018, the MJO is forecast to be positioned over the maritime continent, including Australia and Papua New Guinea. As a result, these countries will experience above average precipitation and enhanced trade winds for at least a few weeks.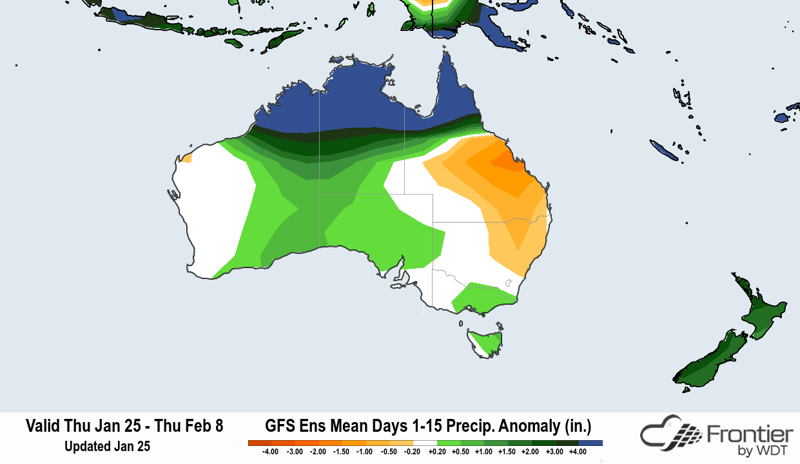 The Kimberley coast, Top End, and the Cape York Peninsula are especially vulnerable to heavy rains and strong onshore winds when an active monsoon trough is positioned across the area. Areas of low pressure will often form along the monsoon trough and are sometimes referenced as monsoon lows. Unlike tropical cyclones, monsoon lows have relatively low winds and disorganized convection near the center, with large areas of gale force or higher winds away from the center within the broader circulation. Hazardous marine weather conditions from these lows can affect offshore operators from the South Indian Ocean to the Coral Sea.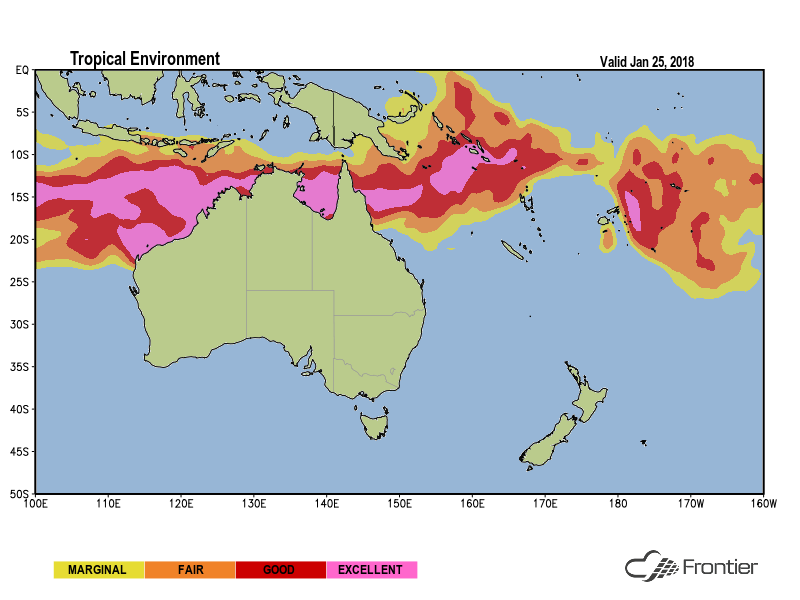 When atmospheric conditions are favorable, monsoon lows that spend enough time over or near warm ocean waters can consolidate into tropical cyclones. WeatherOps meteorologists are currently monitoring two areas for potential tropical development in the Australia Region Tropical Daily Planner. This product provides customers with an assessment of the current tropical environment and the development potential for tropical cyclones during the upcoming five days. A threat briefing is provided for any tropical lows with a 20% chance or higher of developing into a tropical cyclone within the next five days.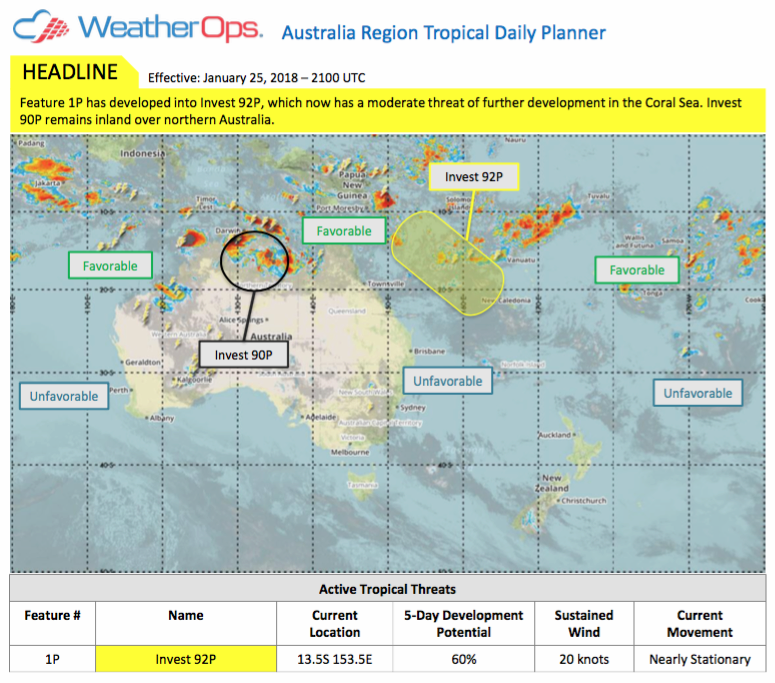 Active Storm Advisories commence as soon as the Australian Bureau of Meteorology designates a tropical low. These advisories contain a detailed track and intensity forecast and a clear explanation of marine weather and onshore impacts. Stay ahead of tropical cyclones this Australian tropical season with our suite of forecast tools and real-time updates in Commander.