Monsoon Season Causes Major Flooding in Arizona
by Daphne Thompson, on Aug 3, 2016 2:02:03 PM
Phoenix, Arizona experienced severe flooding on Tuesday as slow moving storms moved through the area. This is monsoon season in the Southwest when the normally dry area receives the majority of its rainfall. The excessive rain can cause dry stream beds turn into raging rivers leading to massive problems.
While two inches of rain in an hour sounds like a normal day in Houston, it is an unusual day in Phoenix. It caused the shut down of many major roads and led to multiple water rescues. Not only were the roads flooded, but the water was rushing fast. Unfortunately, there are always some who think they can drive through it without a problem and end up putting their lives in danger. "Turn around, don't drown" may be a saying not heard much in a desert area. Other damage to the area included downed powerlines and flooding to some homes. Here are some images from yesterday:
Unbelievable flood waters in #Phoenix. Credit:@andrewfox10 #Monsoon2016 pic.twitter.com/OiyduHZqM3

— Scott Ford (@ScottFordTVGuy) August 3, 2016
Flash Flood Warning in effect for Maricopa County issued by @NWSPhoenix. Locations may experience flooding #PHXStorm pic.twitter.com/PjGe6berCG

— City of Phoenix, AZ (@CityofPhoenixAZ) August 2, 2016
Streets starting to flood in central #Phoenix #monsoon2016 pic.twitter.com/6pl71VVXpw

— Josue Kevin Duran (@josuekduran) August 3, 2016
A Flash Flood Watch is already in effect today. So, be prepared for more flooding, especially in areas that are still waterlogged.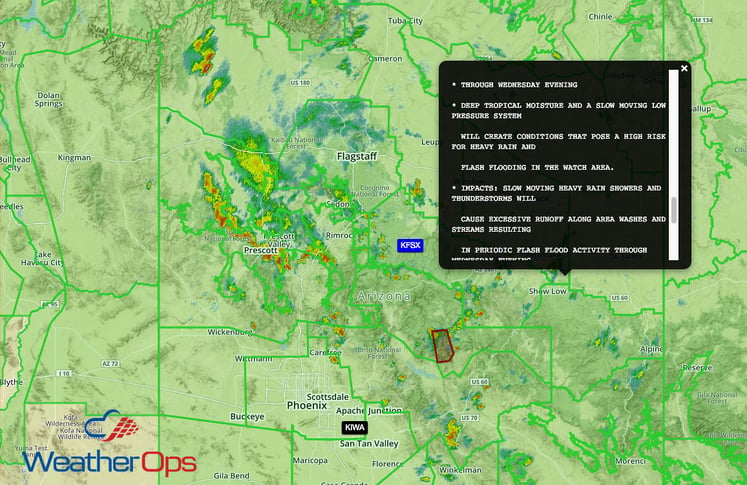 The National Weather Service issued a flash flood watch for the Valley Wednesday morning https://t.co/YoLTrjmzo1

— 12 News (@12News) August 3, 2016
Our daily forecasts have mentioned monsoonal rains in the Arizona area for the past few days and they are expected to continue. If you are not prepared for this, your company or employees could be at risk. Find out how WeatherOps can keep you aware before the rain starts to fall.