Macy's Parade May Have Weather Issues
by Dr. Kevin Kloesel, on Nov 23, 2016 2:00:00 PM
While flipping through the Macy's Thanksgiving sale flyer, I couldn't help but notice the absence of a particular weather-sensitive item. While I let you guess what item the meteorologist might be looking for, you've already likely formulated the mental connection between the aforementioned retail chain and Thanksgiving Day.
With the inaugural Thanksgiving Day event in 1924, the Macy's Parade is one of the hallmark holiday celebrations and traditions across the country. Whether you are one of the over 3 million people that attend, the over 1000 that participate, or are one of the 50 million that use it as a television backdrop to turkey preparation at grandma's house, the Macy's Parade offers a unique window into the complex intersection of weather with the urban canyon environment. Think back, you've never heard the Macy's Parade talked about without weather being mentioned. Cold or hot, rain or shine, snowstorms, and the most important weather factor? Wind!
The use of giant balloons requires that detailed wind information be provided to parade organizers and balloon handlers. The criteria for this year's 16 giant balloons list sustained winds less than 23 mph, and wind gusts that cannot exceed 34mph. This year? No worries at all. Winds are forecasted to remain under 10mph, and even allowing for the urban canyon acceleration of winds, there should be no wind issues to prevent your kids from finding Pikachu, or my favorite – this rotund guy below! (Hmm Hmmm!).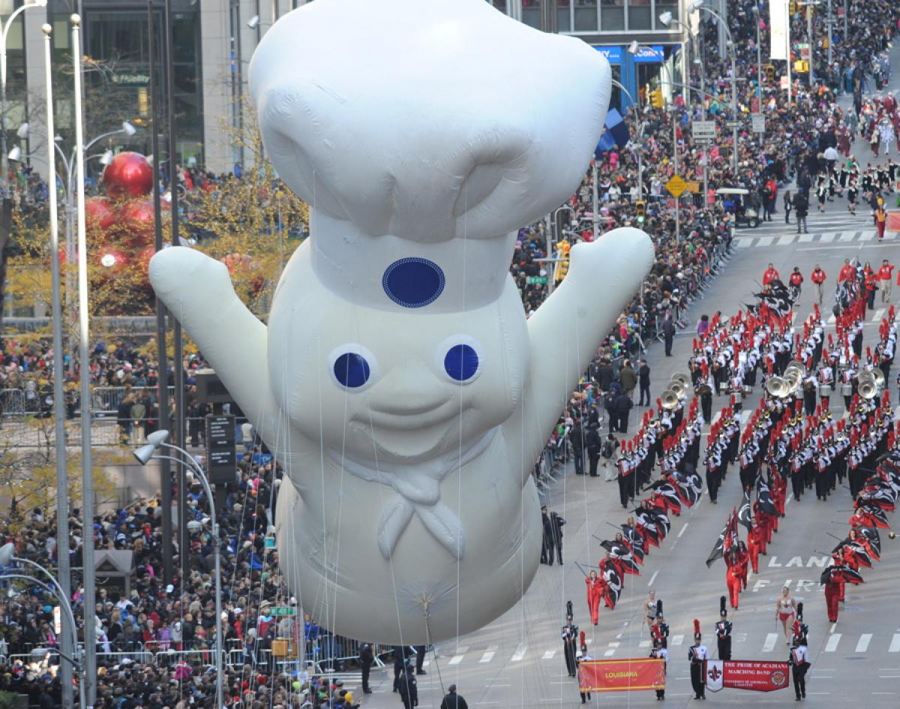 But, back to the item I couldn't find in the sale flyer. The item that folks might need the most on Thanksgiving morning in New York City? I'll give you a hint… the parade occurs rain or shine, and shine does not appear in the local weather forecast for parade time!
Hey Macy's! Could you put your umbrellas on sale this year? Just in case?