Hurricane Season in the Atlantic Isn't Over Yet
by Daphne Thompson, on Sep 28, 2017 2:53:26 PM
For many, it is starting to feel like fall. Snow has already been reported in northern states. But for those on the coast, they still need to be worried about tropical storms. Hurricane season isn't over yet for the Atlantic Ocean.
Can you pick out the hurricane in the image below? Neither of the storms here look like the classic hurricane images we watched hit parts of the US and Caribbean earlier in the season. Yet, one of these is a hurricane, one is a tropical storm, and another area has a high likelihood of becoming a tropical cyclone within the next five days.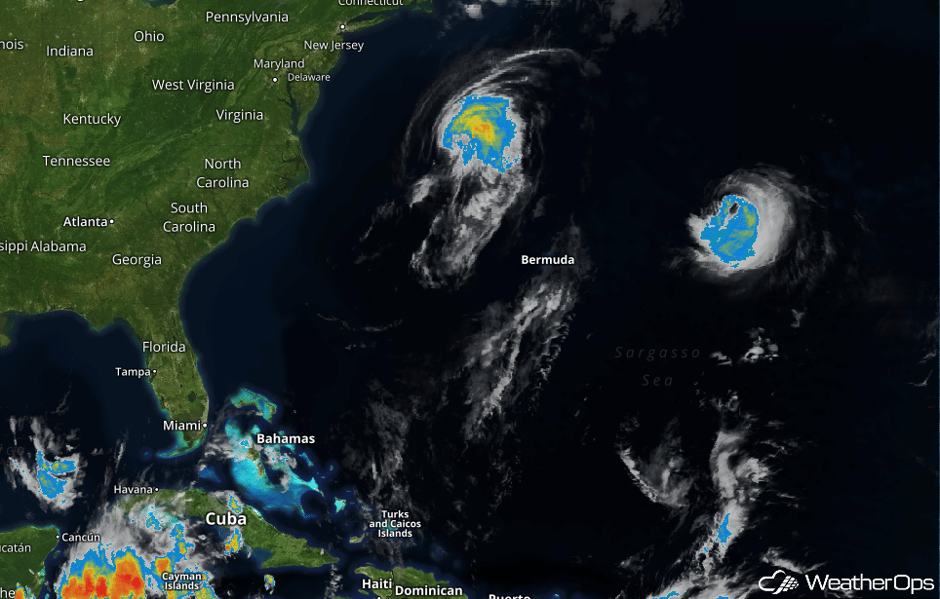 Maria, located on the left, is currently tracking well away from the US to the east to northeast while undergoing transitioning to a post-tropical cyclone. Although the system still has some tropical characteristics, it should continue to lose these features over the coming days while weakening very slowly.
Lee, on the right, remains a hurricane, but strong wind shear is starting to degrade the storm greatly. A track northward to northeastward into further unfavorable waters will continue to hinder the storm, with Lee expected to be fully dissipated within 48-72 hours.
Feature 26L, south of the Florida Keys, is an area of disorganized clouds and storms. The system is currently sitting over the Cayman Islands up into Cuba, and will continue to move slowly northward, likely going just east of Florida. Some development of this weak area of low pressure will be possible before it moves into Florida.
Here you can see how the environments for Lee and Maria are at most marginal for development. Both are approaching much cooler water to the north. The waters around Puerto Rico and the Leeward Islands are also not favorable, which is a good thing for areas continuing to experience catastrophic conditions from earlier strikes by Irma and Maria.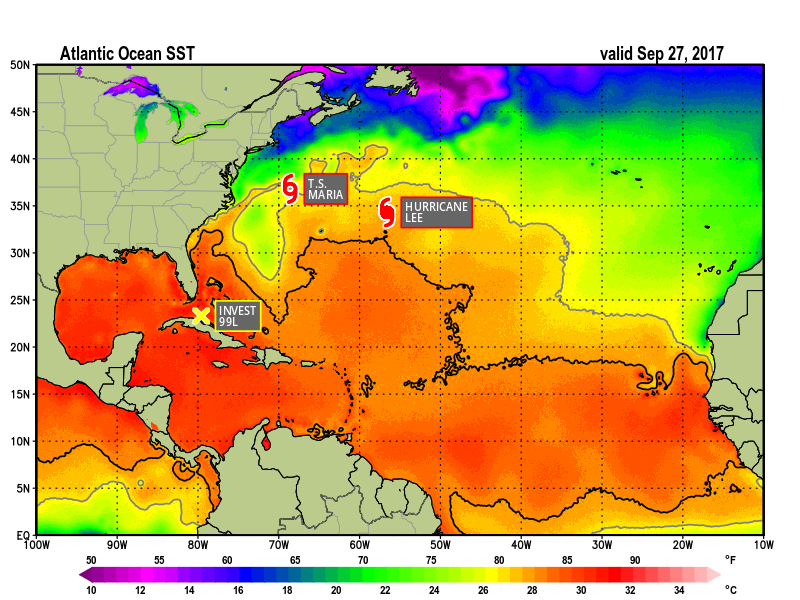 However, ocean temperatures remain very warm in the Gulf of Mexico and near the Bahamas. They are also still fairly warm off the western coast of Africa, where many tropical system start out.
We have all seen the images of terrible hurricane damage done this season in Texas, Florida, Puerto Rico, and many other islands nations. Lives have been lost, home and businesses destroyed, crops decimated, and many are currently suffering. Atlantic Hurricane Season doesn't officially end until November 30. There are still two more months to go and the chance of more tropical systems to develop. Are you prepared?