Hurricane Matthew Has Made Landfall
by Daphne Thompson, on Oct 8, 2016 12:18:41 PM
Hurricane Matthew made landfall this morning in South Carolina. The center of this storm will continue to rake the coastline until it moves back into the open Atlantic Ocean. Inland flooding will be a problem this weekend as rainfall totals increase.
Visible satellite shows a much weaker looking Matthew this morning. For those on the Carolina coasts, do not let this appearance fool you. Matthew is still a powerful storm with the ability to cause loss of life and property. Rainbands will affect a large portion of the East Coast today.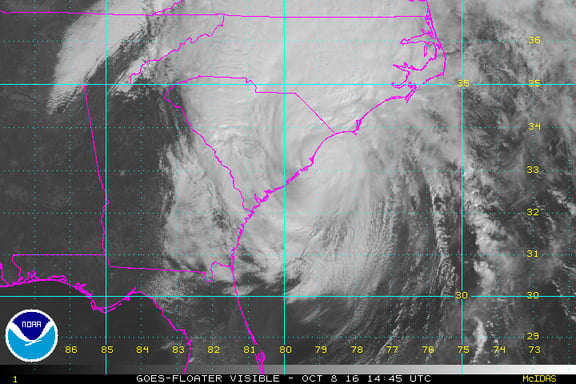 Surface observations show that tropical storm force winds, with occasional hurricane strength gusts, continue to impact the Carolina coasts. More weakening is expected today into tonight. While most forecast models suggest a southward turn, there is a chance that Matthew may continue east or northeast beyond Sunday.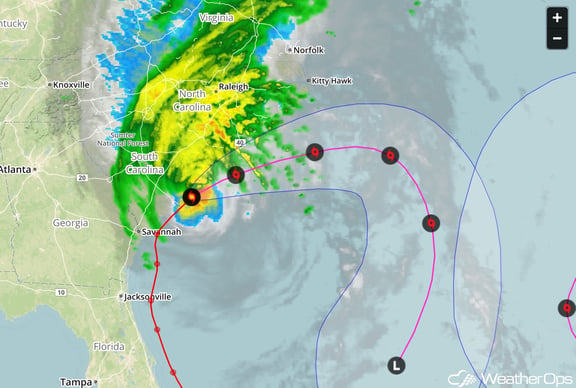 While Hurricane Matthew may only be a Category 1 storm now, it is still capable of producing storm surge problems, extremely heavy rain, flooding and tornadoes. Some areas around the Carolina coasts have already received upwards of 8+ inches of rain. Local amounts of 12+ inches are possible in North Carolina for locations east of I-95. Serious inland flooding is being reported and there are many flood warnings in effect. Remember to never drive in high water, many roads have been washed out or undercut. If needed, seek shelter higher up in your home.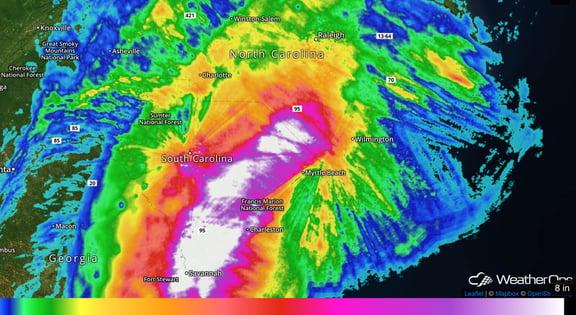 Home owners in Florida are starting to be let back into their neighborhoods. Others will have to wait until emergency personnel can check areas out for safety reasons. Trees are down, shingles off roofs, power out, roads washed away and coastal erosion is high.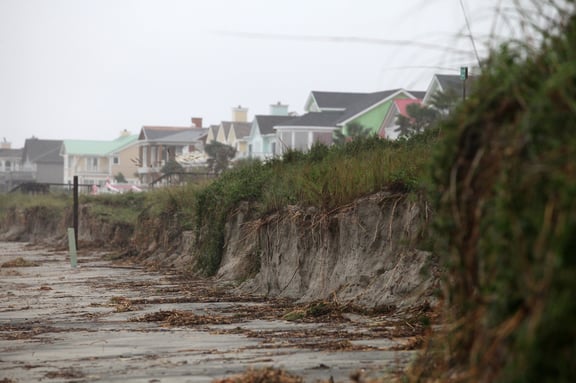 As Matthew becomes a post-tropical storm, it may possibly return to Florida. If this happens, it should be a much weaker storm. However, a weak storm that can drop a lot of rain over an already water-logged area will still be a problem. We will continue to keep you up to date over the coming week.