Hurricane Matthew Has Formed
by Daphne Thompson, on Sep 29, 2016 1:27:05 PM
Hurricane Matthew has formed and is first ever Hurricane Matthew in the Atlantic. Other storms have been called Matthew, but none have reached hurricane status. The last storm named Mathew, in 2006, hit Central America and caused over 100 fatalities.
While we have passed the peak of hurricane season, it is not unusual to still have strong hurricanes in the Atlantic Basin. The most intense hurricane in this ocean, in recorded history, was Wilma. With winds speeds of up to 185 mph, Cat 5 Hurricane Wilma formed on October 16, 2005.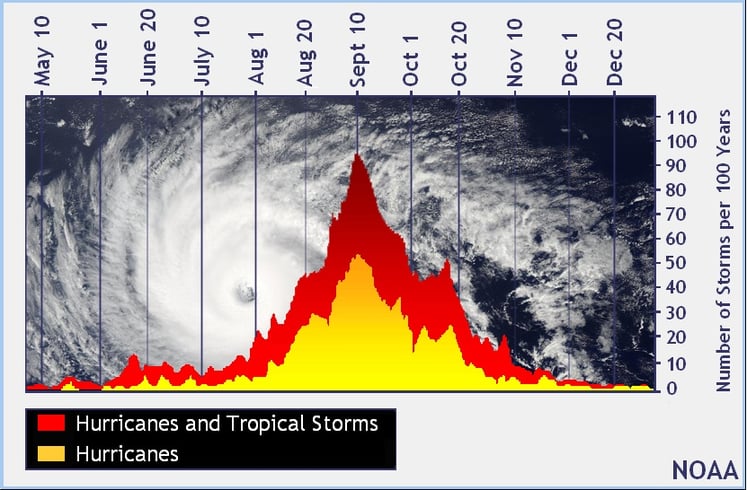 Despite Matthew being a hurricane, the latest imagery indicates the storm has an uneven wind field.  Given the favorable conditions expected in the central Caribbean (lower wind shear and warm water temperatures), Matthew may attain at least Category 3 status in the next few days. Any land interaction while passing through the Greater Antilles may allow for some weakening, however re-strengthening to the south of the Bahamas is certainly possible as well.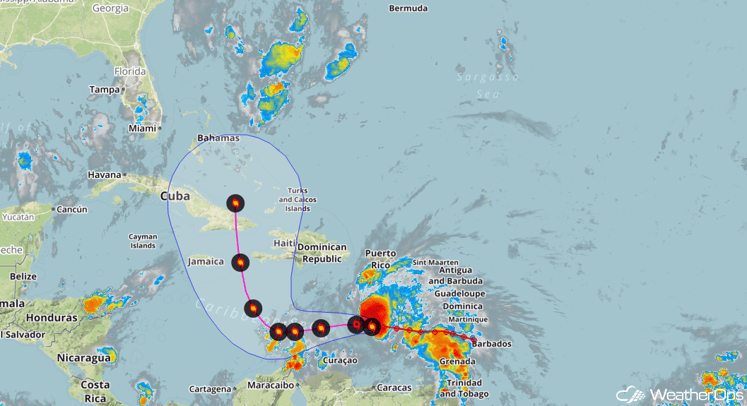 The nearly 90 degree forecasted turn is not unprecedented. The projected path of Hurricane Matthew is very similar to that of Hurricane Hazel, which struck in mid October of 1954. Hazel was responsible for over 500 fatalities, mostly in Haiti. It made landfall along the Carolina border as a Category 4 hurricane.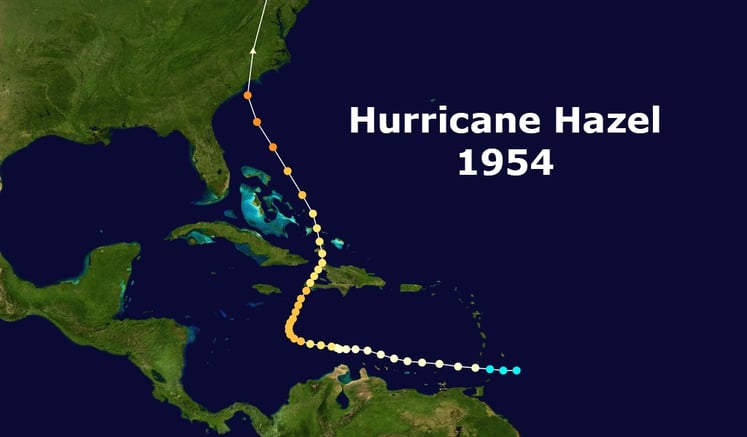 History from Hurricane Hazel tells us that it produced 10+ foot tides in South Carolina and an 18 foot storm surge. This destroyed hundreds of coastline buildings, causing millions in damage. Due to the amount of death and destruction, the name Hazel was retired.
At this time, Hurricane Matthew is creating rough waters across much of the eastern Caribbean Sea. High sea conditions will spread into the central Caribbean over the next few days and sustained winds of 25-35 knots (30-40 mph) with gusts in excess of 40 knots (46 mph) will be possible across northern portions of the Guajira Peninsula on Friday and Saturday.
Matthew is likely to bring impacts to portions of Haiti, Jamaica, and eastern Cuba beginning on Sunday, and continuing through Tuesday. While details remain uncertain at this time, Matthew is forecast to be a category two hurricane as it approaches Cuba. Interests in these areas are advised to monitor the progress of Matthew closely. WeatherOps will continue to watch this storm closely and those along the East Coast should also keep an eye on this storm as the eventual path remains unclear at this time.