Heading to the beach for Memorial Day? Rain may affect those plans!
by David Moran, on May 26, 2016 2:28:47 PM
Memorial Day Weekend is in sight and that means many will be heading to the beach to kick off the unofficial start of summer. However, those plans may be rained out along portions of the East Coast.
An area of low pressure centered between Bermuda and the Bahamas is in the early stages of development and will become better defined over the next few days. Environmental conditions are favorable for further development on Friday. Coastal areas from Southeastern Georgia through North Carolina could potentially be impacted by heavy rain and high seas through the holiday weekend. Below is a look at the satellite view of the developing system and forecast tracks from the models.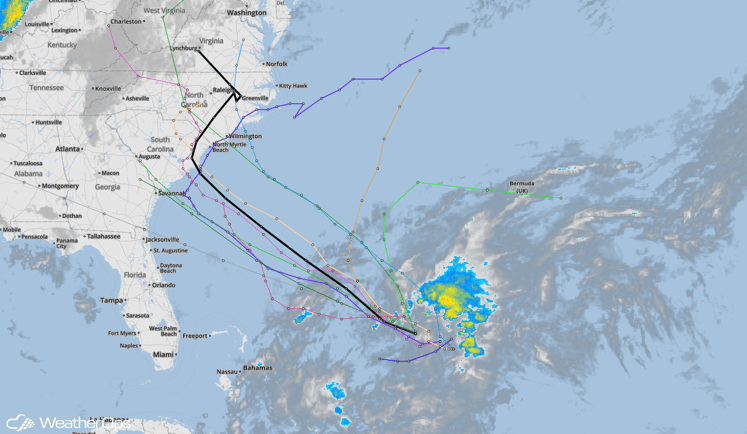 Enhanced Infrared Satellite and Model Forecast Tracks
This low will continue to develop through the day on Friday and into early Saturday. By Saturday afternoon, the system will approach the coast and bring the potential for heavy rain from portions of Georgia northward into the Carolinas. In addition to the potential for heavy rain, strong winds and elevated seas will be possible.
Below is one model's depiction of the storm at 8am EDT on Sunday, showing the system approaching the Carolina coast.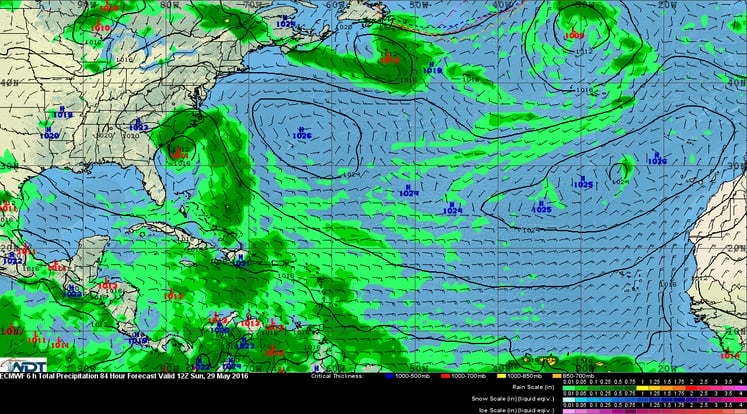 ECMWF model 8am EDT Sunday
There is still a lot of uncertainty in the forecast and details will change as conditions evolve. WeatherOps will be monitoring the system and providing updates through the weekend.