Driving Agricultural Precision Farming Decisions in Developing Regions
by Daphne Thompson, on Oct 20, 2015 1:25:02 PM
Outside of the US when dual pol radar data isn't available, how can growers get accurate rainfall estimations on which to base their decisions?
Satellites are the answer. Satellites began to extract rain rates in the early 1980s. WDT has acquired the entire archive of satellite derived precipitation and as such, has the most extensive global climatological record of precipitation in the industry. What's important for growers to understand is that not all satellite data is the same, just like how not all radar data is the same (see WDT's rainfall article on dual pol).
Why should a Grower Care?
Knowing where your rainfall data comes from is key to understanding the advantages and disadvantages of how it's measured and then determining what decisions to make at the field-level. A variety of folks will simply say "I have global rainfall" but without knowing what questions to ask, you could be getting a product that doesn't fit your region or accuracy criteria for making precision farming decisions.
The Tale of Two Sensors:
Satellites can measure precipitation using two methods: Infrared and visible to determine cloud top height, and high frequency microwaves (think radar in space) that detects the scattering of microwaves when interacting particles within a cloud. Each method has its advantages and disadvantages.
Infrared/Visible Advantages:
Longest archive going back to 1979
Utilizes global geostationary satellites to provide global coverage
From 1998-present, provides 30 min updates globally
Infrared/Visible Disadvantages: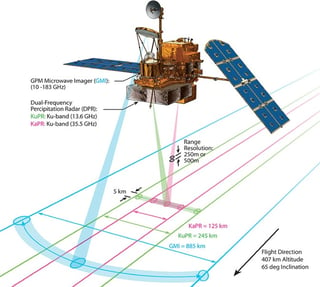 Utilizes crude relationships to determine rain rate using solely cloud top height
Underestimates rainfall in mountainous regions
Overestimates heavy rainfall in low lying regions
Microwave Advantages:
Measures types of particles that better determines rain rate.
More accurate than infrared/Visible in all areas.
Microwave Disadvantages:
Limited to 3 hour rainfall totals due to polar orbiting satellites. Image Courtesy of Goddard Space Flight Center, NASA
Archive only going back to 1998.
WDT ingests both methods of satellite precipitation for the purpose of 1.) having a consistent archive dataset to offer growers who want to compare past seasons and, 2.) for those that want the best resolution/highest accuracy product available at the exact accumulation period.
What's the best product out there?
WDT is leveraging the Integrated Multi-Satellite Retrievals for Precipitation Measurement. This dataset combines an international network of 12 satellites that utilize microwave emissions to measure 30 min rainfall data around the globe. Launched in 2014, this new satellite method eliminates many of the disadvantages of microwave rain rate retrieval while leveraging its advantages.
In essence the IMERG satellite platform combines the very best of satellite technology and provides meteorologists a first glimpse at accurate global rainfall. One of the biggest use cases is following rain rates produced by tropical cyclones like Hurricane Kilo back in Feb 27, 2014.
Video Courtesy of NASA GPM group
Adding value to the dataset is crucial and WDT combines this satellite dataset with bias correcting the data with rain gauge information. Contact WDT today to learn more about this dataset and how we can service your weather needs around the globe.