Exploit weather data to enhance your bottom line. Here's how!
by Renny Vandewege, on Sep 3, 2015 5:16:36 PM
---
THE VALUE OF SKYWISE DATA
We know weather plays a significant role in many aspects of business, including fluctuations in revenue, disruptions in the supply chain, choosing when to plant or irrigate crops, or how busy a hospital may get. When matching SkyWise weather analytics with other corporate and end-user data, key predictive analytics reduce pain points and increase profit.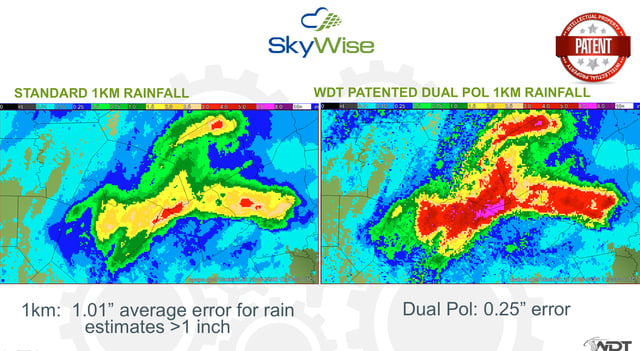 SKYWISE WEATHER ANALYTICS BY THE NUMBERS:
57 patents cover our technology
380+ predictive models run daily by WDT
270 terabytes of historical weather data
114 years of historical weather data
A COMPANY BUILT AROUND DATA SCIENTISTS
WDT's 15 year history is built around data scientists and pushing the envelope of higher resolution, higher accuracy weather data. With 58 masters and PhD scientists on staff, we've generated an incredible dataset of insightful historical, current, and forecast information that, when paired with business data in analytics, provides tremendous insights in a variety of sectors.
ADVANCED TECHNOLOGY
Patented dual polarization precipitation techniques
Proprietary real-time and forecast weather algorithms
Sophisticated data assimilation techniques
Advanced high-resolution predictive modeling
MARKETS TAKING ADVANTAGE OF SKYWISE
As analytics continue to grow, SkyWise has become the preferred weather provider to a number of industries, including:
Retail and Supply Chain
Agriculture
Utilities
Oil and Gas
Targeted Marketing
Business Intelligence
Healthcare