Energy Demand Spikes with Coldest Air of the Season
by Eric Faulkner, on Nov 12, 2018 12:10:55 PM
An initial cold outbreak has already impacted many over the weekend and a second cold shot will continue shifting east into the upcoming weekend. Numerous record lows and record low highs will be broken as average temperature anomalies will dip to 16+ degrees below normal over the next several days, stretching from the Canadian border all the way to the Gulf Coast.


From an energy demand perspective, the U.S. Energy Information Agency week ending 11/16 is expected to see the first withdrawal of the winter season. Below normal temperature anomalies will extend from the Rockies to the East Coast, with the heart of the cold located in the Midwest and parts of the Southern US (top image). Our current withdrawal forecast for this week is 105 Billion Cubic Feet (BCF), which is much larger than the 5-year average withdrawal of 24 BCF typical during this time of year (bottom image). Even as record production continues, storage is well below the 5-year average as we inch closer to the winter season. More significant cold can lead to further losses and an increase in prices.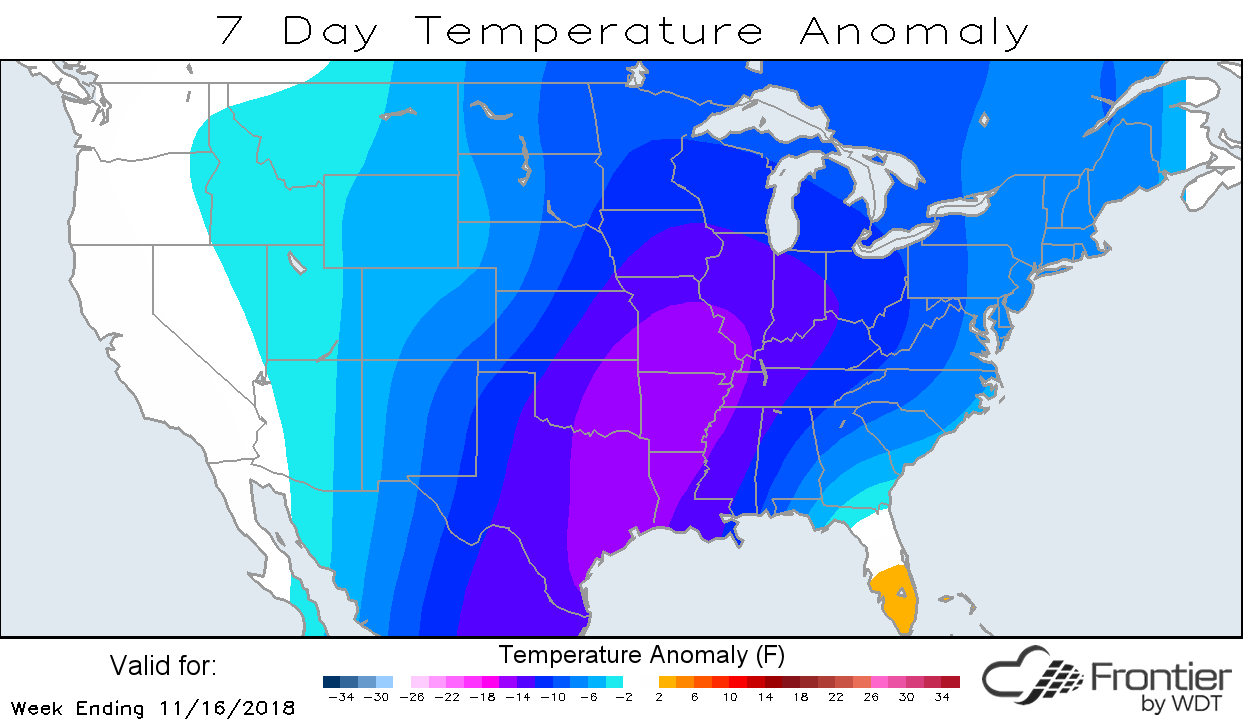 Over the next several weeks, Heating Degree Days (HDDs) will remain well above normal as the larger population areas in the Midwest, and Eastern U.S. faces the brunt of these early arctic outbreaks. Our current forecast calls for an accumulation of 341 HDDs, compared with a 30-year normal ('81-'10) of 294 HDDs, with much of that coming early in the period.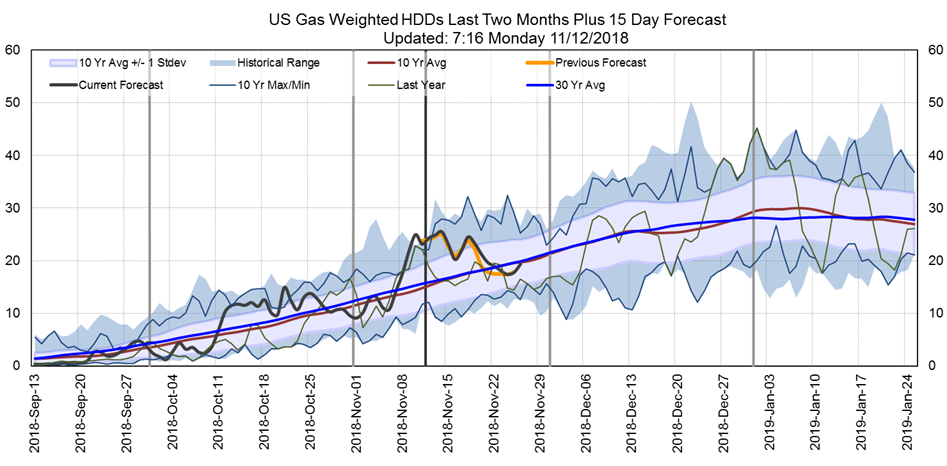 A slight warming trend is anticipated as we close November and move into the first third of December. However, conditions are expected to align for more consistent cold outbreaks heading into the "official" start of the winter season later in December. Keep track of the changing weather conditions to determine impacts on demand and natural gas prices by visiting our Frontier Weather and signing up for a free trial.