Dreaming of a White Christmas? Don't Count on it.
by Mike Eilts, on Dec 16, 2015 3:16:54 PM
Are you dreaming of a white Christmas? If you live east of the Rockies, then keep dreaming. You may have noticed, if you watch football, that many locations in the east were basking in the sun this past weekend when they are usually shivering in the cold. The current long term forecast, for this area, predicts record-breaking warm temperatures extending into the last week of December.
Temperatures are running much higher than normal across most of the U.S. Locations normally dealing with snow are still mowing their grass. Heavy coats and boots have been replaced with short sleeve shirts and shorts. And although we may have a cold spell over the next couple of days, it will be short lived.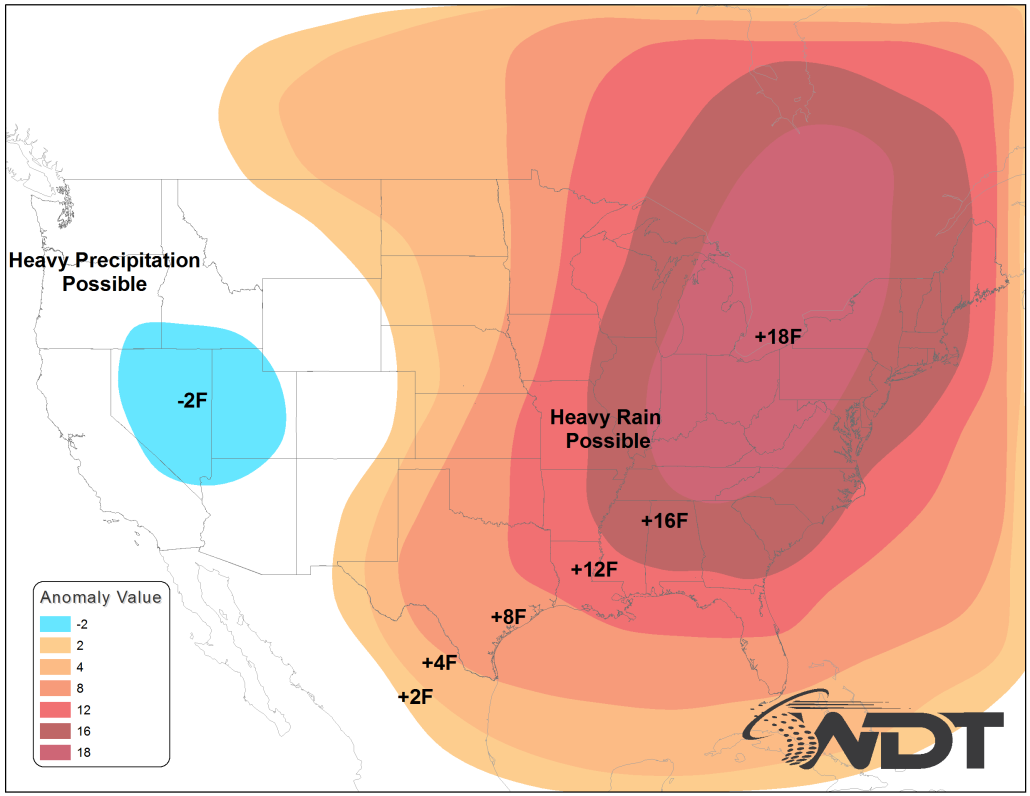 Outlook- December 23-30, 2015
As seen in the graphic above, Ed Berry and Dr. David Gold, producers of WDT Futures, are predicting temperature departures, over the next 8-15 days, that could exceed +18F in some areas east of the Rockies. Not only will locations in the East have unusual heat, but there is also the chance of widespread heavy rainfall, along with a possibility of severe storms in the South. It may be mid-late December, but the atmosphere doesn't know that.
The reasoning for the temperature anomaly is a combination of many things. One issue is that the jet stream has shifted much further north and is currently over Canada. This is keeping cold, Arctic air away from the central plains and east coast. Another factor is climate change, which is causing globally averaged temperatures to raise to record levels. And then we have El Niño thrown into the mix too. Although showing signs of weakening, the Pacific Ocean's sea surface temperatures are in the mid/upper 80s.
While those in the Rockies may experience locally heavy snowfall, the rest of the country will just have to live vicariously through them. Most of us will only see a white Christmas in the pictures on the cards we write. And any tree tops glistening in the East will be due to rain.