Change Coming to WeatherOps Daily Planners and Weather Checks
by Daphne Thompson, on Aug 16, 2016 3:43:52 PM
You may have noticed a change in your WeatherOps Daily Planners and Weather Checks. On the evening of August 15, a new parameter for assessing your severe weather threat was added. The change should make it easier to understand your risk of experiencing strong to severe thunderstorms.
The old Weather Check resembled the one below. There were thunderstorm/lightning, large hail and tornado categories which were threat rated as low, moderate and high. We've found that this led to confusion and some communication issues, especially with regard to tornado and hail. So, we are now using a new format soon to get our customers the best information possible.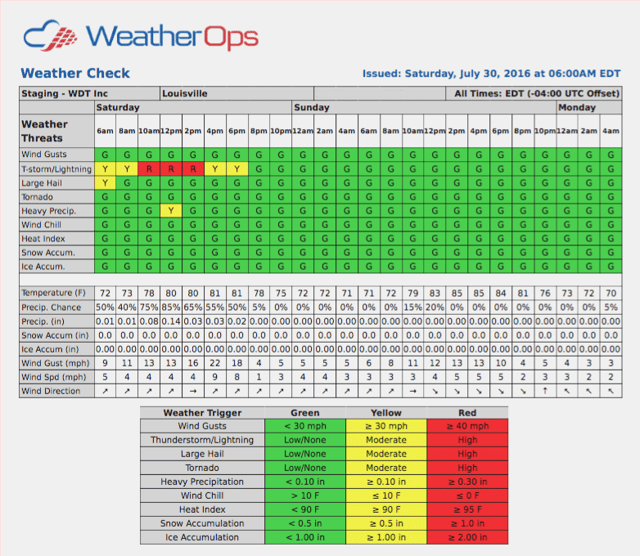 In order to convey the severe weather threat more effectively, WeatherOps has created a severe weather variable, "T-storm Severity", that assesses if conditions are favorable for strong to severe thunderstorms. This includes the threat of tornadoes and large hail. We've also changed the thunderstorm/lightning threat into a probability to match your controls in WeatherOps Commander. Looking at the graphic shown below, you can see that the low, moderate and high are now gone. Instead, the Weather Check and Daily Planner is color-coded based on the probability of whether or not thunderstorms will form. When checking thunderstorm severity, you are presented with an assessment of how intense thunderstorms that develop may become. Definitions have been provided to assist in understanding.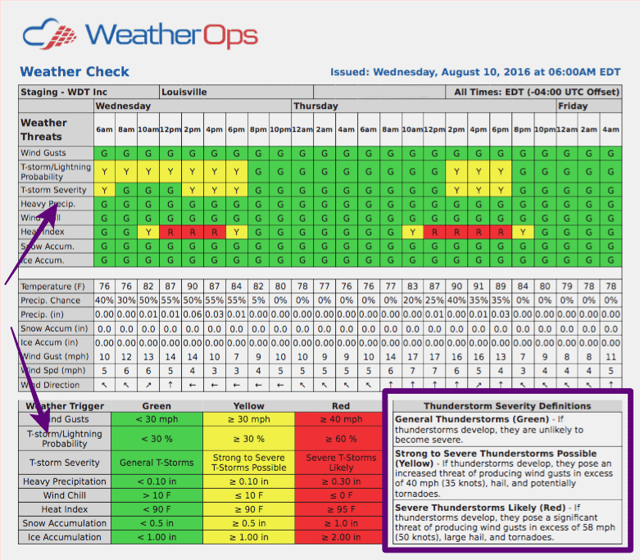 WeatherOps hopes these changes will lead to a better understanding of your thunderstorm forecast. Severe Weather Outlooks will still be issued for areas of concern. If you have any questions concerning this change, you are welcome to contact us. As always, we aim to provide you with the most accurate weather information in the clearest format possible.