Bone Chilling Cold in Store for Several NFL Games Sunday
by Chris Kerr, on Dec 15, 2016 2:26:08 PM
Bone chilling cold is in store for several NFL games on Sunday. A much advertised Arctic air intrusion will grip most of the central part of the United States by Saturday and into Sunday. While bitterly cold temperatures for NFL games are typically expected in January during playoff time, many locations in the Upper Midwest and Plains will experience them this weekend. The ambient temperature when the Chicago Bears host the Green Bay Packers at Soldier Field on Sunday at 12:00 PM CST is expected to be right around or just under 0°F. Add in a brisk northwest wind around 15-20 mph, and wind chills below -20°F will be possible!
In the Frontier Weather forecast image below, you can see that Sunday's temperature anomaly in Chicago is currently expected to be 27°F lower than normal low temperature and 20°F lower than the normal high.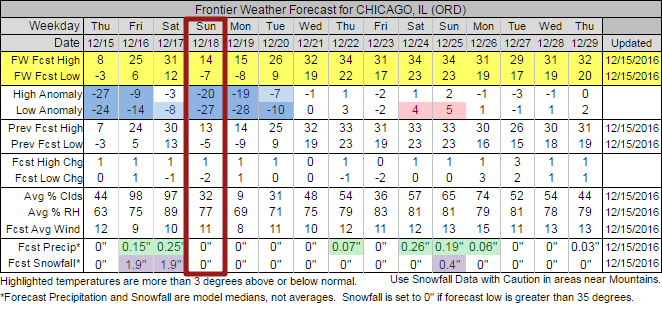 According to the Chicago Bears, they have been tracking kickoff temperatures since 1963, and Sunday will likely be the coldest game in Soldier Field history. These conditions will most certainly affect the performance of the players on both teams as well as those fans in attendance. Many layers and a lot of hand and foot warmers will be needed.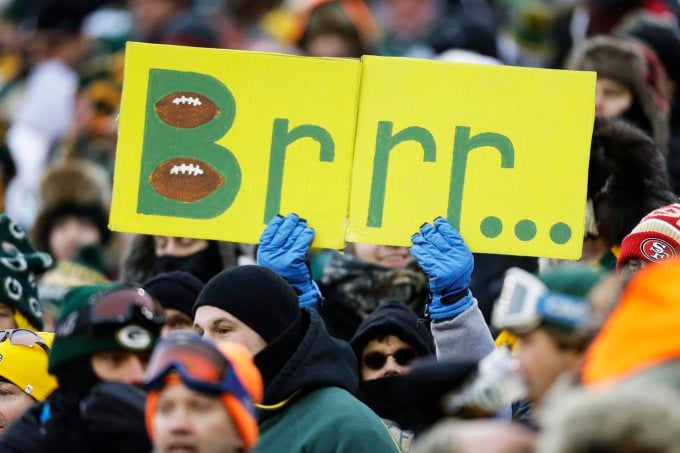 While the Bears/Packers game will be the coldest of the Sunday slate of football games, other teams will also have to deal with very cold temperatures. I would imagine the Vikings and Colts will be glad to play in the climate controlled, brand new US Bank Stadium in Minneapolis. You may recall that the Vikings hosted a playoff game last season at TCF Bank Stadium in bitterly cold conditions, that ended in a low scoring 10-9 game in favor of the Seahawks. In addition to these games, the Chiefs/Titans and the Broncos/Patriots matchups could be affected by cold temperatures as well.