March Madness: Blizzard Conditions May Shut Down the Northeast
by Daphne Thompson, on Mar 13, 2017 3:12:53 PM
A powerful Nor'Easter will begin to impact the Northeast by the morning hours on Tuesday. Over 24 inches of snow are being forecast by models for parts of New York. Even areas that don't get excessive snow will encounter blizzard conditions leading to a special kind of March Madness.
While models have been consistent with forecasting heavy snow and high winds along the Northeast coast, they are varied as to exactly how much snow will fall in the larger metropolitan areas. Currently, over a foot of snow is expected from New York City through Boston. The snow is expected to begin tonight in the Mid-Atlantic and then increase in coverage and intensity into Tuesday as it moves up into the Northeast before ending on Wednesday. One way or the other, areas will have to deal with blizzard conditions.
A blizzard is defined as winds or frequent gusts 35 mph or higher blowing snow that causes visibilities to drop below .25 miles for 3-hours or longer. Current forecasts are for inland winds to be 20-30 mph with gusts over 40 mph. However, coastal winds will be 35-45 mph gusting over 50 mph.
WDT WeatherOps currently has a Hazardous Winter Warning in the purple areas shown below effective as of Monday night. Look closely and you can find Philadelphia, New York City, and Boston all contained in this warning.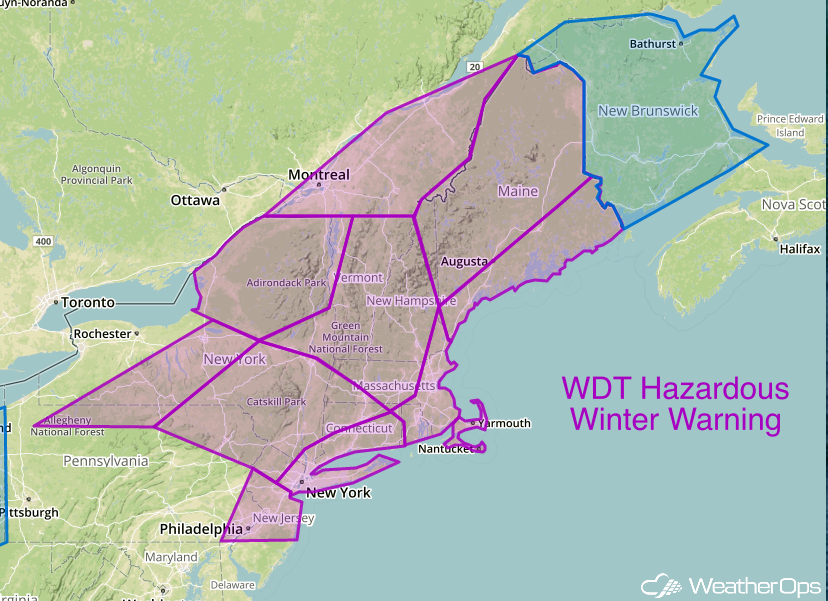 The impacts from this mid-March snowstorm and blizzard will affect many. New York City and many other towns have already announced that schools will be closed tomorrow, March 14. If you haven't stocked up on medications, food, water, and wood for fireplaces, you should head out for supplies now.
Those traveling in and out of the coast should check their flights before heading to the airport. Snow and wind will cause numerous delays and cancellations. Any airport impacts will cause problems at other airports across the US.
Two NBA games scheduled in New York may be canceled tomorrow night. With the OKC Thunder set to play the Brooklyn Nets and Indiana Pacers playing the New York Knicks, blizzard conditions could cause issues. While both games are still scheduled at this time, if you have tickets it is best to check ahead of time to make sure the games are still occurring.
Interested in trying your hand at forecasting snow? Enter our forecast contest for a chance to win a $100 Amazon gift card.