Atlantic Sub-tropical Cyclone Development is Possible Soon
by Chris Kerr, on Jan 7, 2016 6:50:20 PM
The calendar may say January, but there is an impressive non-tropical low pressure system currently in the southwestern North Atlantic about 400 miles west-southwest of Bermuda. This low is producing a very large area of sustained gale force winds mainly to the north of the center.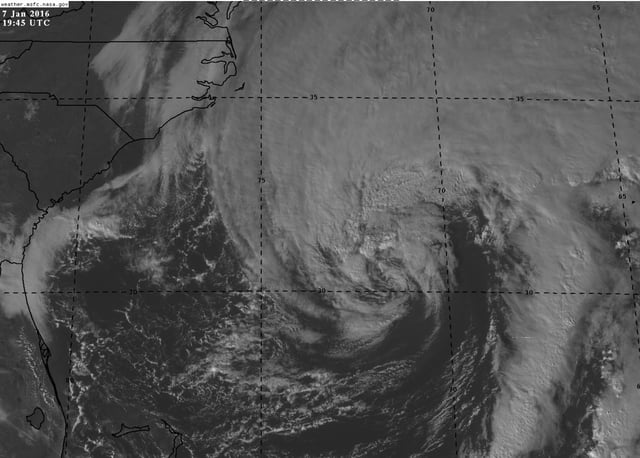 Visible satellite from earlier today at 3:45 PM EST
While sub-tropical or tropical development is not completely unheard of in January, it is exceedingly rare. The years 1938, 1951 and 1978 all had systems develop in January! It should be noted that these types of systems are typically short-lived as either a full-fledged tropical or sub-tropical system, but their development is still impressive given the usually hostile environmental conditions across the Atlantic basin in the dead of winter.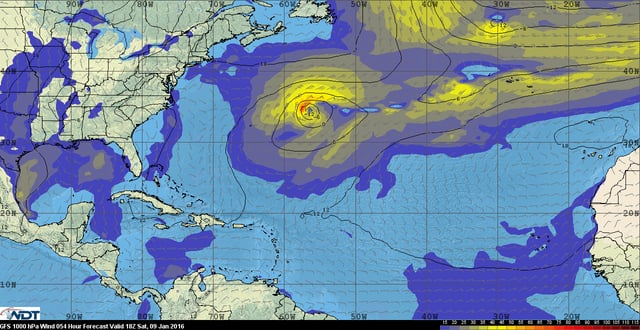 GFS model solution valid Saturday afternoon January 9th, showing near-surface wind speed (knots)
The low to the west-southwest of Bermuda may eventually acquire characteristics to allow it to become a sub-tropical storm as it tracks to the east or east-southeast over the next several days. Sea-surface temperatures in the region are marginal at around 76°F or so. Therefore the system may not remain sub-tropical for an extended period of time, but it is nonetheless likely to produce up to storm force or perhaps hurricane force winds along with very rough seas across the central Atlantic during its lifecycle. If it is given a name designation by the National Hurricane Center it will be "Alex."