Active Weather Expected on Groundhog's Day
by Chris Kerr, on Feb 1, 2016 3:56:51 PM
A wide variety of weather is expected across the central and southeastern portions of the United States on Tuesday. A strong low pressure system, currently generating copious amounts of snow across the Central Rockies, will progress northeastward into the Upper Midwest by Tuesday. This will bring heavy snow and blizzard conditions to the Midwest and Spring-like severe weather to the South.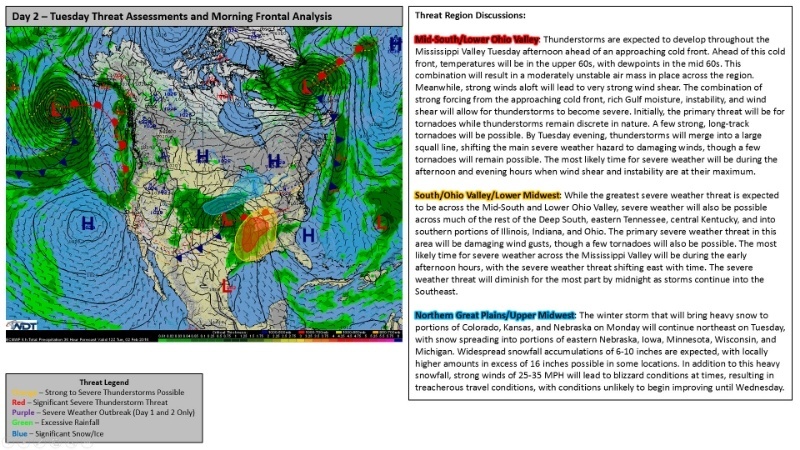 WeatherOps Hazardous Weather Outlook for Feb 2, 2016
On the cold side of the low, heavy snow and strong winds will lead to Blizzard conditions across Nebraska, northern Kansas, Iowa, Minnesota, and into Wisconsin. Snowfall in excess of 12 inches is expected in these areas, which will allow for hazardous travel conditions.
On the southern warm side of the low, a severe weather outbreak is increasingly likely from the Gulf Coast northward into the Mid-Mississippi Valley/lower Ohio Valley as a sharp cold front sweeps through the region during the day. Rich Gulf moisture will stream northward into the region allowing dew points to rise into the 50s and 60s – values more indicative of mid to late spring! Numerical model projections of vertical wind shear (turning of winds with height) are very impressive as well. Thunderstorms that develop ahead of the cold front are expected to initially be discrete in nature and given the strong shear a few long track strong tornadoes will certainly be possible. Storms should become more linear in nature especially into the evening, however there will be a risk of damaging winds as the front track quickly east/east-southeastward.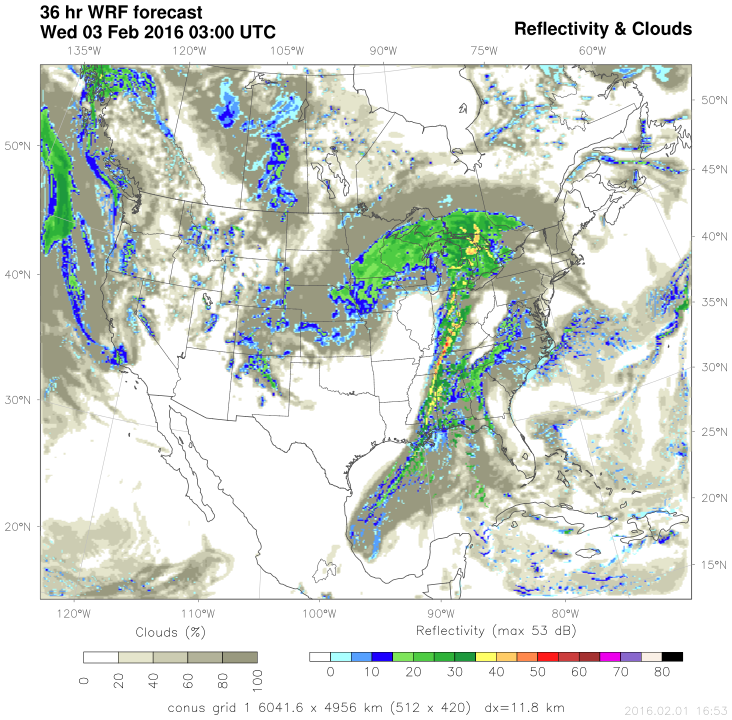 Simulated Radar from WDT's WRF model valid 7 PM CST Tuesday
Even though the calendar just turned February it is important to note that severe weather across the Gulf Coast/Southeast U.S. is a fairly common occurrence in February. Model guidance has been hinting at the possibility of a severe weather outbreak for the last 7 days or so, and WeatherOps first started mentioning this possibility in our Hazardous Weather Outlook product last Wednesday.
One well publicized severe weather outbreak occurred across much of this same region on February 5-6, 2008, which has been dubbed the "Super Tuesday Outbreak". This outbreak had 87 confirmed tornadoes and over $1 Billion dollars in damage. While environmental conditions tomorrow are expected to be somewhat similar, an outbreak of the magnitude that occurred in 2008 is currently not expected. However, it is a good reminder that severe weather is possible even in the winter!