A Review of the Tulsa Tornadoes of August 6, 2017
by Dr. Chris Porter, on Aug 7, 2017 1:24:26 PM
Early Sunday morning, tornadoes struck Tulsa and Oologah in Oklahoma damaging several businesses, residences, injuring approximately 25 people and requiring some roads to remain closed as of Monday morning.
The Tulsa National Weather Service office confirmed that an EF2 tornado touched down at 1:19am CDT just west of I-44 on East 41st street traveling nearly 7 miles. Most EF2 damage was located in midtown very near I-44 where several businesses sustained significant structural damage. Minutes later a second tornado touched down in Broken Arrow creating EF1 damage. Just as the Broken Arrow tornado lifted, a third tornado occurred in Oolagah downing power lines and damaging a residence.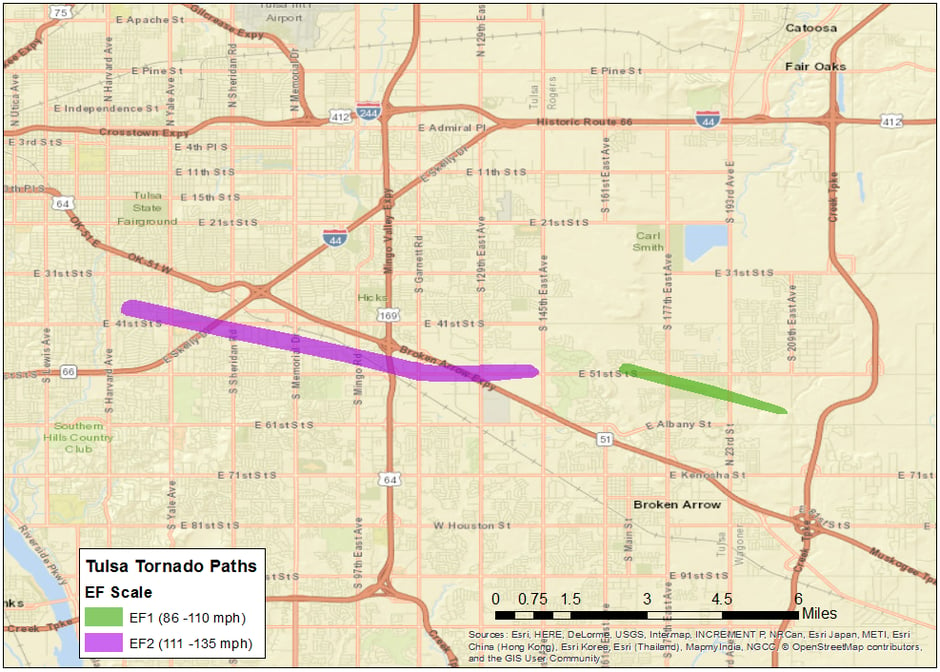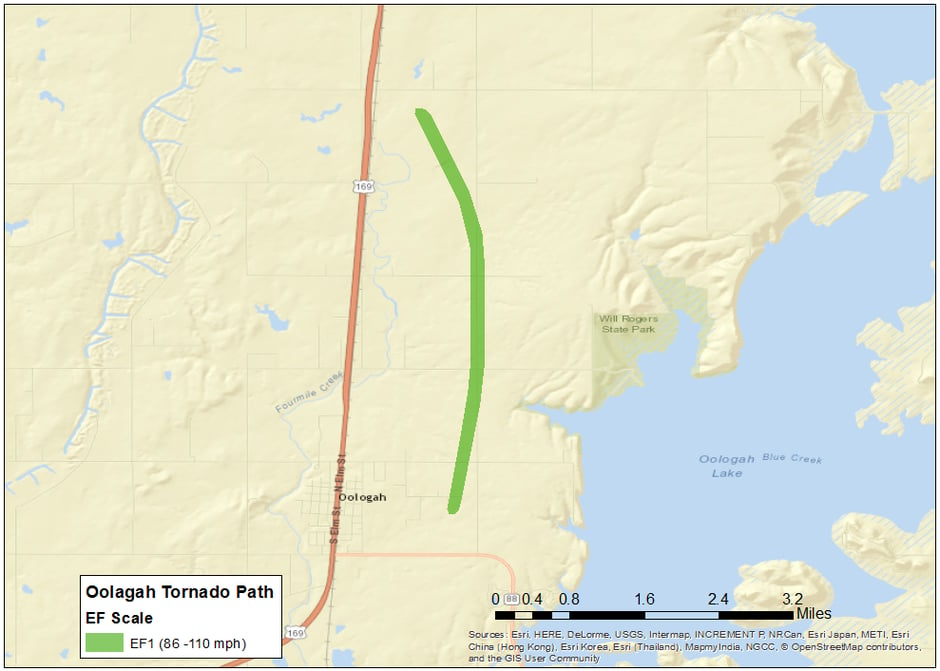 This event can be studied using RadarScope's archive mode. A quasi-linear convective system (QLCS) with a mesovortex was evident over northeastern Oklahoma as part of a much larger region of convection that existed from eastern Kansas through southwestern Oklahoma. A bow echo extended southward from the mesovortex and propagated through Tulsa shortly after 1am.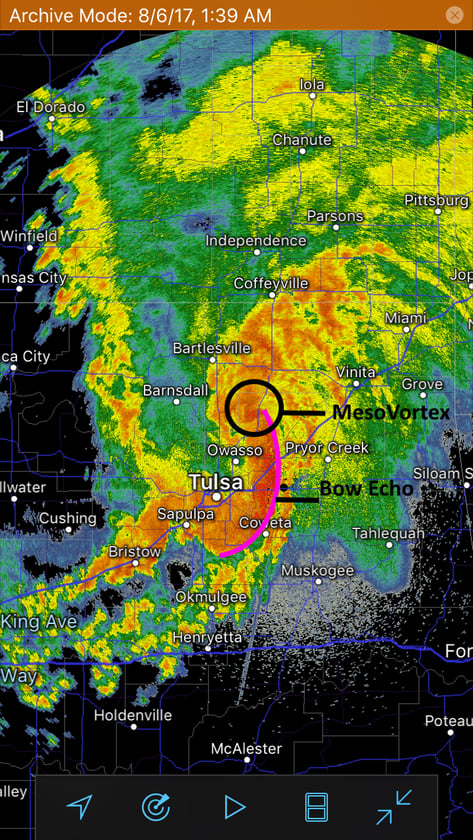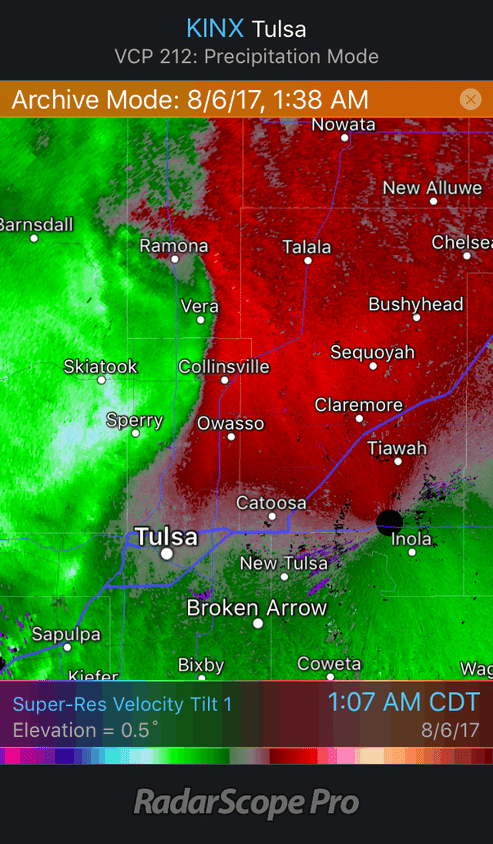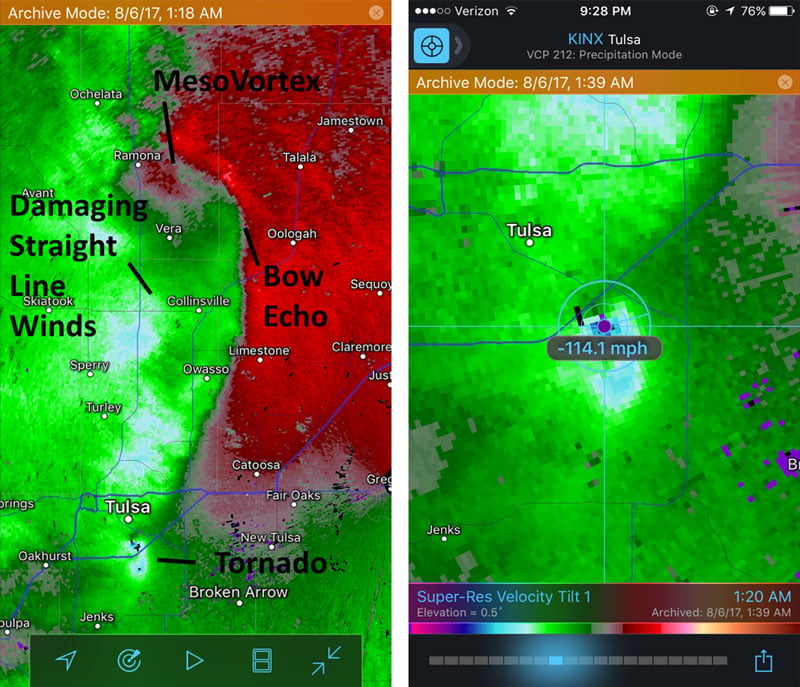 The first tornado and was evident in the radial velocity image above. Wind speeds of at least 114 mph were indicated by the KINX radar.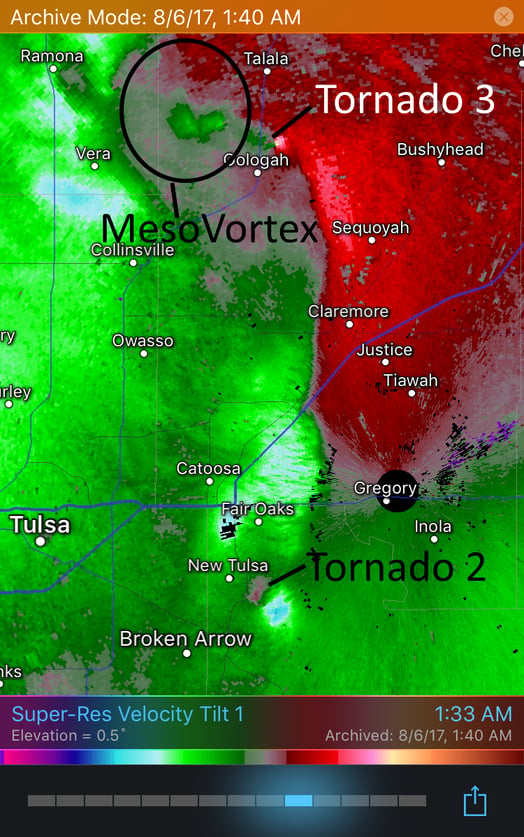 The second and third tornadoes can also clearly be seen in the radial velocity image at 1:33am. The third tornado occurred immediately west of Oologah Lake and was much closer to the mesovortex. Thus, the Oologah tornado traveled in counter-clockwise arc primarily in a northward direction as compared to the east-southeast oriented tracks of the first two tornadoes.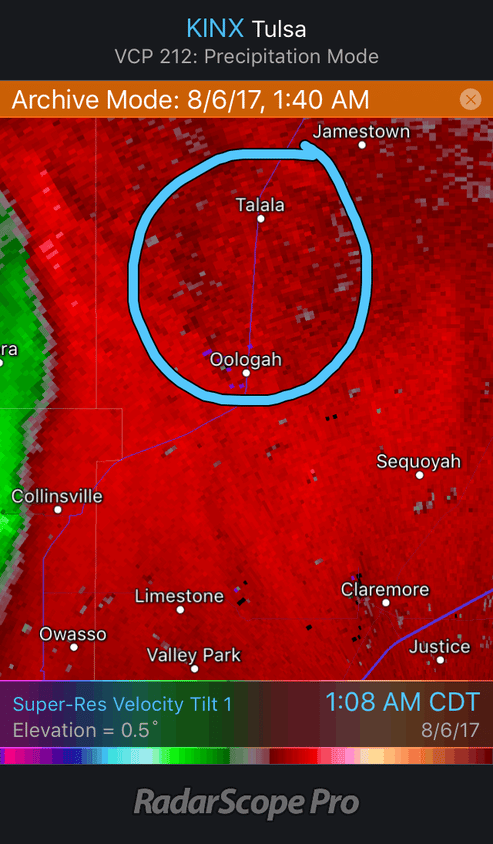 Climatological tornado studies have shown that QLCS events are responsible for roughly 20% of all tornadoes and predominately produce weaker tornadoes (EF-0 and EF-1). Sunday morning's tornado was unusual in two respects. First, this tornado occurred in August while QLCS tornadic events are much more common from April through June. Furthermore, the Tulsa tornado has been rated as EF-2, which is stronger than a vast majority of QLCS tornadoes.
Any time convection can organize itself into a QLCS, such as a bow echo in this event, the possibility always remains that a tornado can be produced with little to no warning. These type of events can be monitored through RadarScope's app by combining a knowledge of convective organization and monitoring of the radial velocity product.