A Rain Delay Leads to a Win After a 108-Year Drought
by Daphne Thompson, on Nov 3, 2016 2:59:23 PM
After a 108-year drought, did a rain delay lead to the Cubs winning the World Series? The ninth inning was ending and the score was tied 6-6 in Game 7 of the World Series. It's hard to ask for a more thrilling game, and then the rain started.
It's usually a pretty depressing scene at any baseball game when the tarp starts to be rolled out to cover the infield. When the World Series title is on the line, the utmost care is taken to make sure the game goes off well. The last thing you want is an error due to the weather or someone to slip while running bases. In this case, a 17-minute rain delay before the 10th inning just added to the excitement.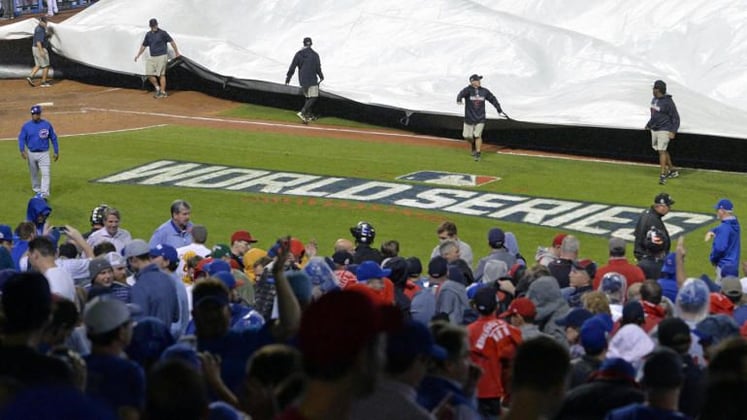 The tarp comes out
In a regular MLB game, Rule 4.03e states "the umpire-in-chief shall have sole authority to determine when a game shall be called, suspended or resumed on account of weather or the condition of the playing field." Continue reading past that and you will find a special comment "the Major Leagues have determined that Rule 4.03(e) does not apply to any Wild Card, Division Series, League Championship Series or World Series games or for any additional Major League championship season game played to break a tie." Therefore, the decision for a rain delay was not made solely by the umpire.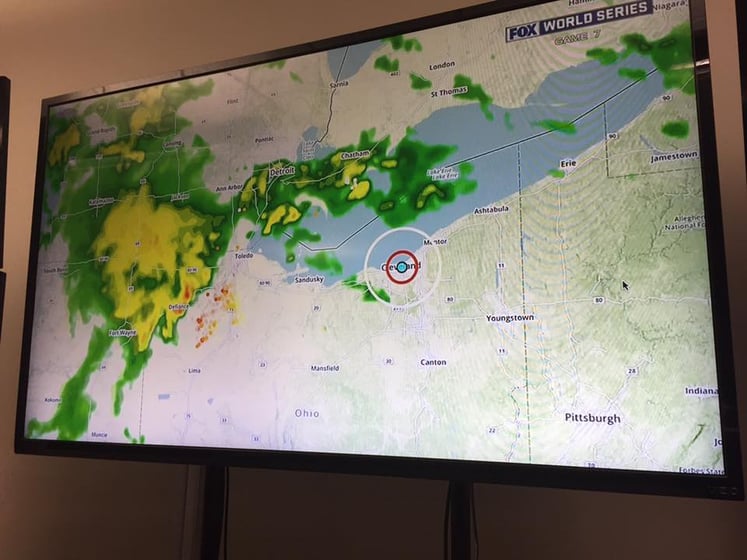 WeatherOps Data for Cleveland's Progressive Field
In a case like this, MLB Headquarters would make the call for a rain delay. They would get assistance from the umpires, ground crew, weather guidance, and also speak with the network responsible for televising the game. In the image above, you can see lightning rings around the stadium location and the small shower that stopped the game. WeatherOps, while not responsible for game weather, was providing Fox Sports with the necessary information needed to keep them apprised of the situation.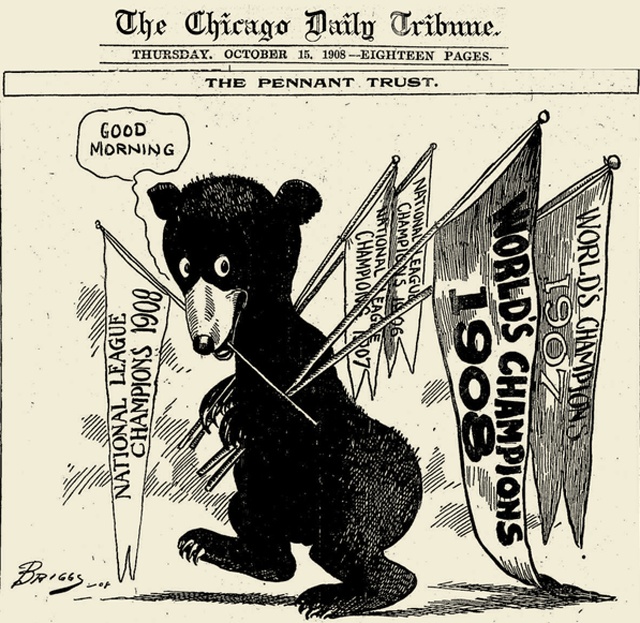 Cubs 1908 World Series Champions
Did the baseball gods cause this delay? Were they trying to help break the curse? While the game was on hold, the players went to their dugouts to wait. In some cases, this might make the anxiety higher for those with a title resting on their shoulders. For the Cubs, the players decided to have a team meeting and regroup. It worked. In the 10th inning, Chicago stepped up and produced two runs giving them an 8-6 lead. Cleveland got one back, but the game ended in an 8-7 Cubs victory.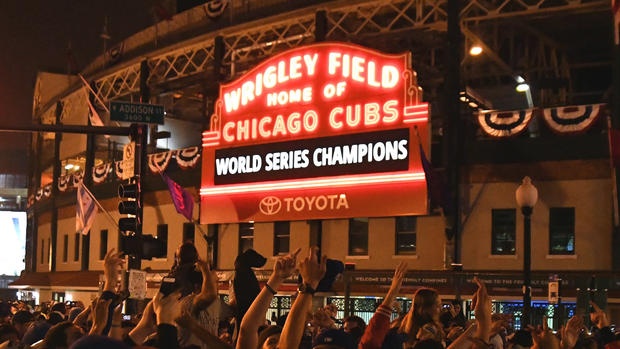 Cubs 2016 World Series Champions
This is a rain delay that will go down in the baseball history books. Congratulations to the Cubs and their fans! Your drought is over.