A Quick Winter 2016-17 Recap
by Stephen Strum, on Mar 6, 2017 2:03:03 PM
Winter 2016-17 got off to a cold start in early December and then produced some widespread well below normal temperatures during the first third of January, but since then warm weather has dominated east of the Rockies. The maps below show the observed temperature anomalies for this past winter (Dec-Feb) and clearly depict the widespread nature of the warm weather this winter.
On a gas-weighted Heating Degree Day (HDD) basis, this winter ended up nearly identical to last winter, though this winter featured stronger overall extremes on both the cold and warm side. The December to February period ended up (based on preliminary data) 86.5% of normal in terms of gas weighted HDDs vs 86.4% of normal last year.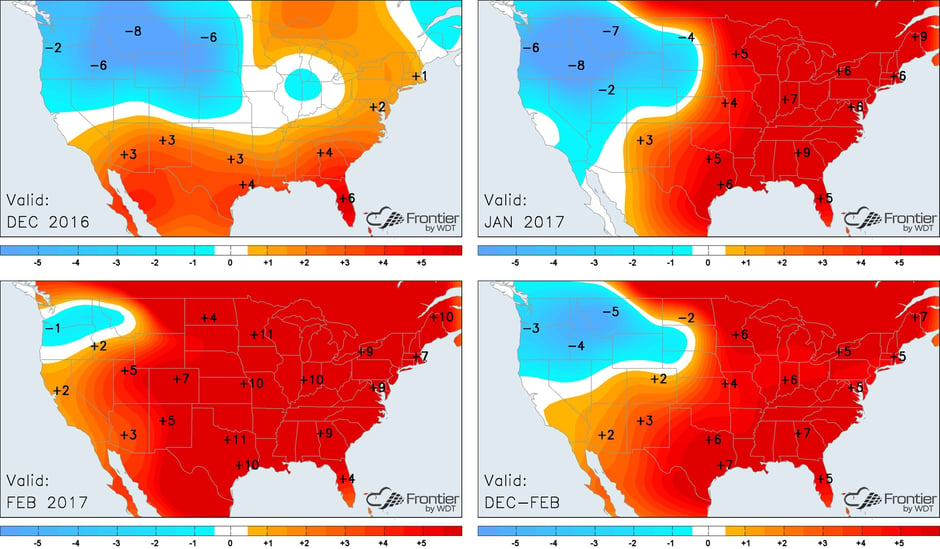 Observed Temperature Anomalies From December-February
Rainfall wasn't particularly noteworthy this past winter across most areas east of the Rockies, but California and much of the interior West saw an incredibly wet and snowy winter, with the highest snow depths seen in Sierra Nevada of California in 25 years, effectively ending (at least for a while) the long-term drought conditions observed across much of the state.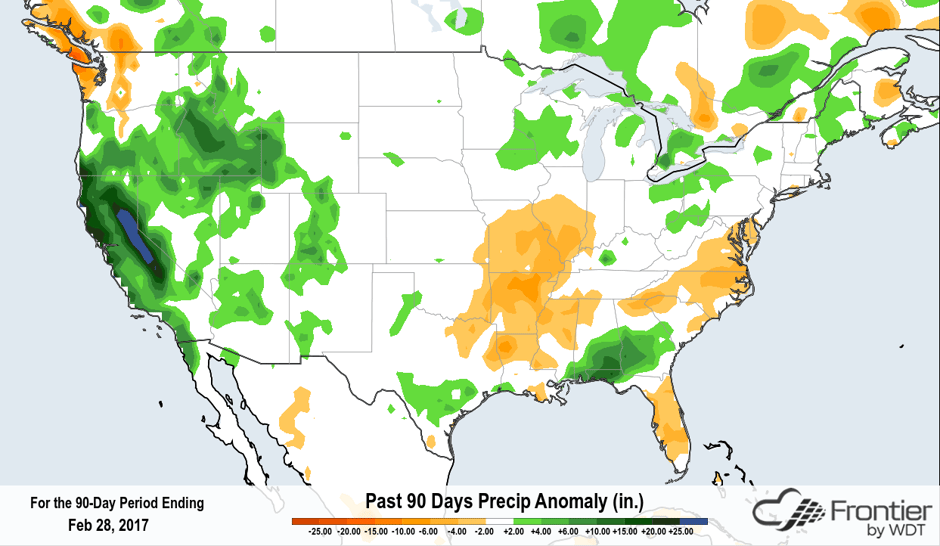 The following plot shows US daily population weighted temperatures and anomalies over the last year. Besides the periods of cold in December and the brief spike of strong cold in early January, well above normal temperatures have been amazingly persistent. The warmth this winter continues the trends seen last summer and fall, which also featured incredibly persistent above normal temperatures.

In a recent blog post we looked at historical six week periods that have featured similar intense warm anomalies. We have updated the table from that post and while the warmest 6-week period from this winter did trend somewhat warmer, it still fell behind the top stretch of warmth seen in 2012. The period from January 13, 2017 to February 23, 2017 was the most anomalously warm 6-week period of winter weather observed across the eastern half of the country in the years since 1970 though, as the period in 2012 occurred primarily during meteorological spring (defined as March 1 to May 31).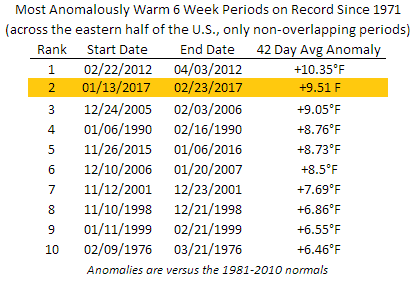 Current indications suggest the warmth of this past winter will carry over through spring and quite possibly into summer as well. Our March and spring temperature and precipitation forecast graphics are updated daily on our website. Sign up for a free trial and take a look at those and other long-range forecast products.