A Look Back at the Weather of 2017
by Daphne Thompson, on Dec 19, 2017 1:52:36 PM
As 2017 comes to an end, let's look back at some of the significant weather events we blogged or socialized about this year. From blizzards to wildfires to hurricanes, it was a busy year. Take a look back with us.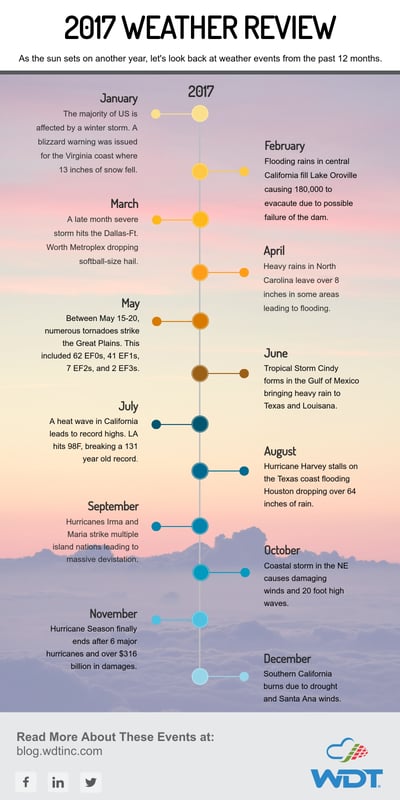 Here is a rundown of the year from month-to-month. Click on the infographic to enlarge it for a quick review.
January:
On January 5, the southeast was hit by a major winter storm. Areas from Alabama to the Carolinas had a wintry mix of precipitation that eventually turned into mostly snow. The storm intensified as it moved up the East Coast and became a Nor'Easter.
February:
Heavy rain fell in California in areas that had been in a drought for many months. Dams and reservoirs began to have issues and spillways were opened that, in some cases, had never happened before. Over 180,000 residents were evacuated in the area of Lake Oroville when there were fears that the dam would fail.
March:
As severe weather began to ramp up, a complex of severe thunderstorms hit the Dallas-Fort Worth Metroplex leaving much destruction behind when homes and vehicles were hit with softball-size hail.
April:
Raleigh-Durham had over 8 inches of rain in a short amount of time. This led to flash flooding with many roads under water and creek levels rising quickly. One creek in the area rose from under 2-feet to over 19-feet in less than 24 hours.
May:
May is frequently a month full of tornadoes and that proved true in 2017. Numerous tornadoes struck the Plains states mid-month. Many of these came from classic looking supercell storms.
June:
Compared to future tropical systems, Tropical Storm Cindy was no big deal. This storm quickly formed in the Gulf of Mexico and dropped over a foot of rain in some parts of Texas and Louisiana along with causing a rough seas.
July:
California was in the news again this month. This time a heat wave was occurring and leading to many broken record high temperatures. For instance, Los Angeles broke a 131 year record when it hit 98F.
August:
In late August, after the Great American Solar Eclipse had passed, a disaster began to unfold on the Texas Coast as Hurricane Harvey struck. An unbelievable amount of rain fell in the Houston area with one station reporting over 64 inches! This large city was completely inundated and rebuilding is still continuing.
September:
More powerful hurricanes struck this month. Irma was the first Cat 5 hurricane to strike the Leeward Islands in recorded history. It spent 3 full days at this intensity and caused catastrophic damage to many Caribbean islands. Not long after, Cat 5 Maria showed up and hit Puerto Rico. It's been three months and the majority of this US territory is still without power.
October:
California began to burn in October when Wine Country was hit by wildfires fueled by the Diablo Winds. While the West Coast burned, the East Coast was dealing with a strong coastal storm that brought damaging winds and 20-foot waves.
November:
On November 30, hurricane season finally officially ended allowing many to breath a sigh of relief. After 10 hurricanes, more than 400 fatalities, and over $300 billion in damages, it was finally time for the tropics to calm down. It is expected that Harvey, Irma, and Maria will be retired from future lists of hurricane names.
December:
The Santa Ana winds picked up this month and California is once again on fire. For a state that started the year out worrying about dams failing, it is now dealing with more wildfires. As I write this blog, the St. Thomas fire has been burning for two weeks. It is currently 45% contained and has burned more than 270,000 acres and destroyed more than 1,000 structures.
Stay up to date with the latest weather information in 2018 by reading our blog and following us on social media.