3 Key Weather Variables to Better "Play the Hand We Are Dealt" this Planting Season
by Daphne Thompson, on Mar 2, 2016 4:24:46 PM
Growers want to put their trust in a 2016 forecast for the planting and growing season.
Many meteorologists and weather savvy growers hesitate to trust the 2016 spring weather forecast. This is because this winter they've relied on the typical El Niño pattern which was not met. With El Niño showing signs of weakening to a La Niña pattern - which signals a wet spring and a large summer drought over the corn-belt, this is cause for concern on how much to trust this pattern.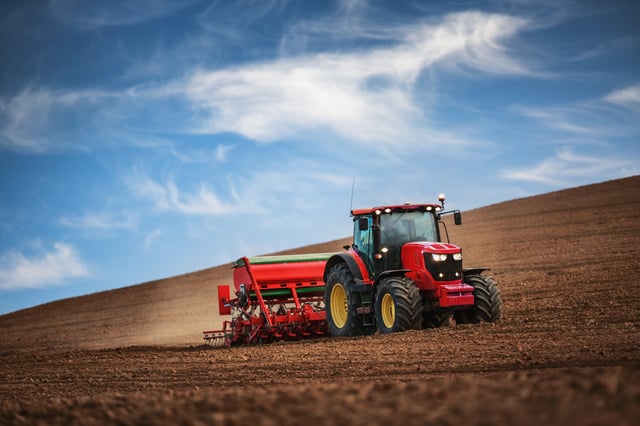 Betting on the weather? Hold 'em bets on El Niño - assume El Niños or La Niñas are exactly the same. Even with a strong El Niño, the impacts can vary in intensity. The three strongest El Niños occurred in 1972-73, 1982-83 and 1997-98 all had very different impacts across the United States. This current, record breaking, El Niño did not result in drought busting rainfall over California leaving the state high and dry.
The current 2016 Spring weather forecast indicates that no looming long-term drought is evident, except in California. Combined with signals showing an above average April for severe weather across the southern plains and central Corn Belt, bringing more rainfall, this may further insulate growers from the drought due to high soil moisture content from the rains.
So should we be going "all in" on a drought? Whether you're betting on the La Niña drought or not, let's look at 3 key weather variables to consider to better "play the hand we are dealt" this planting season.
1. Temperature: THE FIRST 48 HOURS
For seed, the first 48 hours after planting is critical. Steve Pitstick, an Illinois grower, plants by the rule that "if for 48 hours, the soil and air temperatures will be cooler (below 50 degrees), but then warm up dramatically and hold – it's time to plant."

The problem: FROST. There's a lot of uncertainty on the ideal time period of occurrence.
If a grower misses this window, research shows a 1-bushel per day is lost. (Check out this Penn State research.)

This Spring, our meteorologists at Weather Decision Technologies (WDT), are "calling" an earlier planting date than normal in the central and eastern Corn Belt.

2. Solar Radiation: 50
From solar radiation and air temperature forecasts - our weather analytics infer how soil will react to air temperature. If soil temperature hovers close to 50 degrees, and forecasts call for warmer air, the odds are in the grower's favor. (For more information be sure to check out an excellent paper by Illinois crop science extension.)

3. Precipitation: SEVERE STORMS
Severe storm risks are expected in April across the southern plains and central Missouri valley. With the severe storm risk we can expect heavy rainfall, which can lead to compaction. Planting timing will be key if these severe events allow for some dry down. Add in that the Corn Belt is saturated from last year - more significant rainfall may lead to flooding. (Check out this great Soil Compaction article by the University of Minnesota.)
Long Range Outlook:
Summer is still unknown. Varying climatology makes it difficult to forecast beyond 60 days. WDT has demonstrated forecast skills in the 30-60 day window. Below is the forecast outlook for the end of March and April. Based on temperature and precipitation, the forecast calls for a high temperature anomaly over the eastern Corn Belt, and more normal temperatures over western Corn Belt from the end of March into April.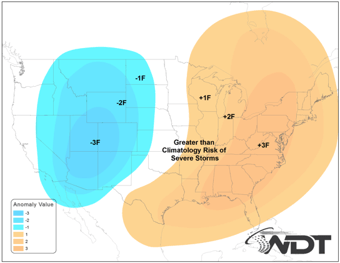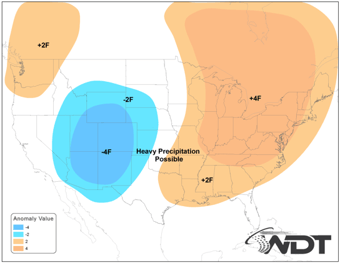 Temperature, precipitation, and solar radiation data will allow growers to have "better odds" for their field decisions in the short term (days 1-7) forecast. The most accurate long-range field decisions can use 30-60 day outlooks.
How to Gain an Advantage on El Nino? Prepare yourself with WDT's personalized Weather Alert service!

1. Personalization. Our Storm Alert service is customized to fit YOUR farm's location.

2. Be Informed. We notify you via email or text message so you are the first to know about the impending weather. With our heads up notification you will never have to worry about surprises again and you can continue working knowing the experts at WDT are on your side.

3. Our 24/7 Call Your Meteorologist Service. We have expert, degreed meteorologists closely monitoring your area and more importantly, helping you make profitable decisions in advance of events, from a simple rain storm to a severe weather outbreak.

Joining up with WDT gives you an unparalleled advantage.