National Weather Summary for Monday, December 1, 2014
by WeatherOps, on Dec 1, 2014 9:50:58 AM
Light freezing rain, sleet, and snow is likely from portions of Eastern Oklahoma to Southern Illinois. Freezing rain and sleet is expected for portions of Oregon with heavy snow in the mountains. For portions of the Central Appalachians, light freezing rain is possible this evening and overnight.
Current NWS Advisories/Watches/Warnings in iMapPro: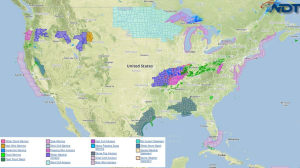 High pressure will dominate the weather across the Midwest. Along and behind the cold front, an upper level disturbance moving across the Central US will allow for showers from the Mid Mississippi Valley into Pennsylvania. A light wintry mix of freezing rain, sleet and snow will continue across southern portions of Illinois and Missouri. Wintry precipitation will expand into Arkansas and Oklahoma through the morning. While significant accumulations are not expected, elevated surfaces could see up to a tenth of an inch of Ice.
Ongoing rain across the Pacific Northwest will continue with a mix of freezing rain and snow for the higher elevations. Heavy snow will be possible for the Intermountain West with 8-10 inches possible in the higher elevations.
As an area of low pressure continues to progress eastward winter weather should end across the middle of the country. By tonight, sleet and freezing rain will be possible along the border of Virginia and West Virginia. Ice accumulations up to a tenth of an inch of ice will be possible.