Linkin Park and Weather Safety
by Mike Eilts, on Sep 12, 2012 12:37:45 PM
WDT and NWS partner to make Linkin Park "Storm Ready"
Linkin Park's touring manager, Jim Digby, is passionate about the safety of outdoor concerts and weather is one of the biggest hazards. He likes to say "nobody's kid should go to a concert and not come home."
Mr. Digby is one of the co-founders of the Event Safety Alliance, a new organization made up of entertainment industry veterans, of which WDT serves as a sponsor. ESA was formed in the wake of several recent large venue incidents that have resulted in injury and even death of event attendees.
Over the past month, WDT has worked diligently with Jim Digby and Rick Smith, Warning Coordination Meteorologist of the Norman NWS forecast office, to meet the necessary requirements for the 2012 Linkin Park Tour recognized as a "StormReady Supporter".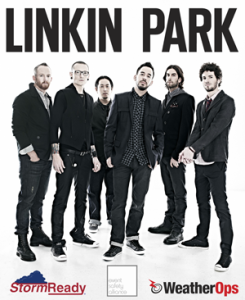 This recognition was given to Linkin Park because they have taken a very proactive stance with regards to weather safety. WDT has customized a weather decision support service called WeatherOps where-as our expert meteorologists provide forecasts and advisories to Linkin Park with a primary goal of allowing 2-hours lead time for any weather event that will result in evacuation of an outdoor venue. Additionally, WDT provides all NWS watches and warnings to Linkin Park.
Linkin Park has established a weather "decision matrix" which they use to make decisions in real-time during hazardous weather so they do not need make critical decisions on the fly. When their point person receives an advisory or warning they have already decided what actions will be taken for a given event.
On Monday, August 28th, Rick Smith presented to the band members and Jim Digby the Storm Ready certificate. I had the pleasure of talking to the group at this event for a few minutes and the band members were genuinely interested in weather safety and appreciative of the NWS and WDT for providing information that keeps their fans and crew safe.
Linkin Park is the first touring band to take a proactive weather safety stance. The Event Safety Alliance, WDT and the NWS are all working hard together to make outdoor concerts safer, hopefully Linkin Park will be the first and set an example that other big and small artists along with outdoor venue managers will follow. This is a perfect example of a public, private partnership that is providing great value to outdoor concertgoers!