ForeFlight Mobile 3 HD Launches on the Apple iPad with WDT Radar and Satellite
by Daphne Thompson, on Apr 5, 2010 6:49:53 AM
Pilots Gather Preflight Weather Intelligence on New "Supertablet" from Apple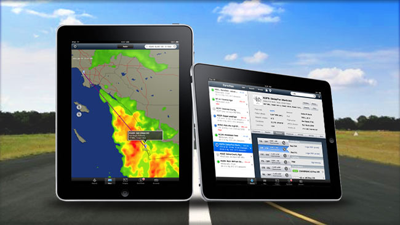 Norman, OK. and Houston, TX – April 5, 2010 - Pilots concerned about upcoming weather conditions for their flight path can turn to ForeFlight Mobile 3 HD, which is now available on the iPad in the App Store. The high definition display on the new Apple iPad features high quality radar and satellite data from Weather Decision Technologies, Inc., (WDT) the leader in advanced weather data for online, on-air and mobile applications.
ForeFlight andWDT have collaborated to deliver Slip Map™ weather maps to ForeFlight's iPad, iPhone, and iPod Touch applications for pilots. Designed from the ground up for active pilots, the new weather presentation technologies improve pre-flight situational awareness, increase confidence, and improve pilot productivity. The weather Slip Maps™ - maps that users can pinch, drag, and zoom - are available in ForeFlight Mobile 3 HD, the latest evolution of the best-selling aviation weather and flight planning application for the iPad, iPhone, and iPod Touch.
ForeFlight Mobile 3 HD runs on both the iPad and iPhone, so any existing subscribers can download the latest v3.3 update from the App Store without needing to purchase an additional subscription, as they are automatically upgraded. Mobile 3 HD is available on the Apple Store here: http://www.foreflight.com/itunes/mobile
ForeFlight Mobile 3 delivers "zoomable" HD NEXRAD radar and satellite for the continental United States, Alasaka, Hawaii, and Puerto Rico. Beautiful, animated radar graphics with indicators for lightning, hail and mesocyclones offer pilots a sophisticated view of the weather nationwide.
In July 2008, ForeFlight Mobile 2 launched alongside Apple's new App Store to critical acclaim, becoming one of the highest rated iPhone aviation products in the App Store and a top seller in the App Store's weather category. In addition to a comprehensive airport directory, ForeFlight Mobile provides color-coded METARs, TAFs, winds aloft, infrared satellite, noticies to airmen, information on temporary flight restrictions, a directory of fixed-based ground operators, flight plan filing, access to CSC DUATS preflight briefings, and more.
About ForeFlight
Founded in 2007, ForeFlight builds Preflight Intelligence apps for pilots. ForeFlight's critically acclaimed and highly-rated apps are used by thousands of pilots worldwide to efficiently gather the critical information they need to assess flight conditions, plan flights, obtain preflight weather briefings, and file flight plans with government aviation agencies.
About WDT
Weather Decision Technologies' iMap services provide dynamic interactive and mobile weather mapping solutions for the world's leading local media and Internet companies. WDT is a global leader in providing state-of-the-science weather detection, nowcasting, and forecasting systems. The company maintains operational and international offices in Washington, D.C., Norman, Oklahoma; Atlanta, Georgia; and Austin, Texas. http://www.wdtinc.com.